Walks in Ust Kamenogorsk.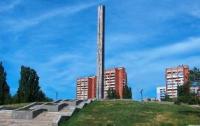 Booking of excursions on towns of Kazakhstan.
«The person does not forget about a thing because of which has gone to way»
Ernest Simon Bloh.
Duration of the excursion: 5 hours.
Season: year round.
Advanced reservation: for 24 hours.
Detailed program of an excursion trip in Ust-Kamenogorsk:
Guided Tours in Ust-Kamanogorsk.
Excursion across Ust-Kamenogorsk: visiting of regional study of local lore museum, visiting of regional museum of arts, visiting of regional ethnographic museum, visiting Ust-Kamenogorsk Andrew of cathedral, visiting of monument to soldiers-liberators of Great Domestic war, visiting of the main mosque of city by the third on size of mosque of Kazakhstan, visiting of city park, foot walk on quay Ulba, sightseeing tour on city.
Short history information on the town of Ust-Kamenogorsk.
Is the largest industrial and transport junction of the mining Altai. The city was founded in 1720 as the fortress Ust-Kamennaya at the place of Irtysh and Ulba confluence. It is the center of the Eastern-Kazakhstan oblast. After three-four decades it became the crossing and trade center.  It was named as "the gates of the Mining Altai", because all expeditions for studying and settling the Mining and Southern Altai passed throughout of it.
The trade ways to Mongolia and China also passed there.  By the XX century Ust-Kamenogorsk became the center of the gold extractive industry. During its history about 700 tons were extracted, also the nugget with a weight of 25,57 kg.
Up-to-date Ust-Kamenogorsk is one of the largest centers of metallurgy. Its lead-zinc-integrated plant produces a considerable part of lead and zinc making in the Mining Altai. The gold, silver, cadmium, gallium are also made there.
The main sources of energy of the integrated plant are Ust-Kamenogorskaya and Bukhtarminskaya HESes. The titan-magnesian -integrated plant was built not far from the city. Besides non-ferrous metallurgy there are metal-working and machine-building enterprises, the food, light and timber industry have developed there.
There are also clothing factories and the factory of silk. There are God created places, where man can feel himself free and easy. One of such places is Altai. Altai, which is rich of forests, rives, fishes, honey, herbs, ores and has a unique beauty, from Mongolian translated as "The Golden Mountains".
Situating on the borders of China, Mongolia and Russia it by virtue of geographical and political features remains as ecologically tested. In the territory of Eastern Kazakhstan there are different natural landscapes as deserts, steppes, taiga, mountain glaciers, rivers and lakes.
 Note:
The author program is Alexander Petrov. Copying and introduction -  from the sanction of the author  petrovsra@mail.ru
Alexander Petrov
photos.