Waterfall Kairak in Turgen gorge.
Tour to Turgen gorge.
"Nature is an infinite sphere whose center is everywhere"
Ralph Waldo Emerson.
Walks on waterfall in Turgen gorge.
Falls Kairak is on northern slope of mountain ridge Zailiiskiy Ala-Tau on the right inflow of the river Turgen - the river Kairak in natural boundary Oi-Karagai. From a mouth of the river Turgen up to a confluence of the river 8 kilometers Kishi-Turgen distance up to a falls, on a wood.
The general height of falling of water makes about 55 meters in the Turgen gorge at height of 2300 meters above sea level, the falls consists of three cascades which are difficultly looked through. All foot way together with stops will borrow approximately 2,5 - 3 hours.
Having spent forces on this way, you will be a magnificent kind on this falls. Kairak a falls the a mad stream of water has pierced in rocks of a step and cascades on which water falls to bottom of a falls. The road which turned to the southwest goes along a channel of the river Turgen, with 7 bridges over it (some of them are not restored).
The Bozgul - the right inflow of the Turgen river, punched a tunnel in the rocks and formed a powerful and unique waterfall for the lie Alatau.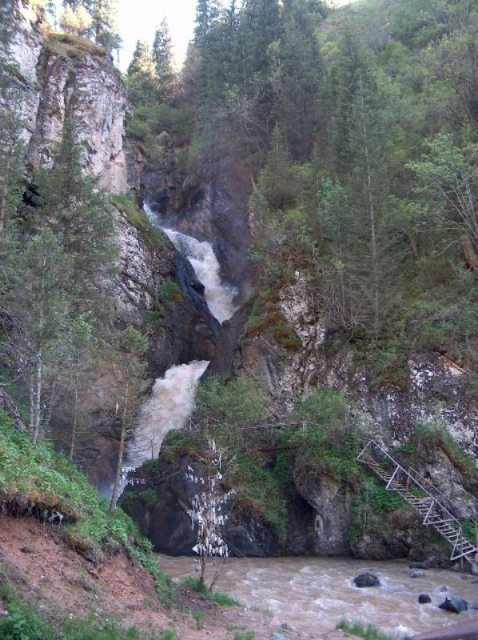 Authority:
The guidebook across Kazakhstan . Authors Dagmar Schreiber and Jeremy Tredinnick.   Publishing house "Odyssey". 2010.
Photos
Alexander Petrov.