Yaqubbay Khoja Madrasah in Khiva.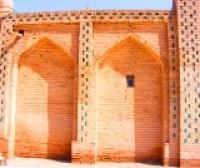 Custom trip in Khiva.
"An ancient burial site will always hold clues as to who the people were, and to who we are" 
Anthony T. Hincks.
Seven architectural miracles of Uzbekistan.
Ichang-Qala, the ancient compound of Khiva has placed in itself a set of archaeological sites XIY-XX of centuries. Having come here one can feel the link of the different times and peoples. As if in a fairy tale of Alladdin in the streets of this ancient town flowing from one to the other there lie ancient mausoleums and madrasahs.
One of such archaeological architectural monuments is Yaqubbay Khoja Madrassah which settled down to the West from the ancient cult Mausoleum of Pakhlavan Mahmoud.  It was built in 1873 by the prospering Khivan merchant Yaqubbay Khoja.
When viewed from above, the madrassah looks like a rectangle which stretches along the east-west longitudinal axis. The lobby is completed in the traditional Muslim architecture of the dome room leading into the courtyard through the arched doorway. In the north-east corner of the madrasah there is a small domed mosque, built of brick masonry.
The wooden doors are decorated with rich tiles of the Khivan masters.
Authority:
http://welcomeuzbekistan.uz