Abdal Bobo Mausoleum.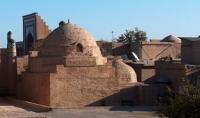 Visiting architectural monuments of Khiva.
"Architecture is also a chronicle of the world: it speaks when both songs and traditions are silent"
Nikolay Gogol.
Сommencement of a journey in Khiva.
Mausoleum Abdal Bobob of construction VIII - XVIII centuries, is located in east part Dishan-Kala, to the south madrasah Abdulla Nasfurusha, and to the east madrasah Palvan Kari. The mausoleum has been constructed in honour of Abdal Bobob, whose present name was Palvan Ahmad Zamchi.
After intrusion of arabs, Abdal Bobob became one of adherents of Islamic religion in Khiva. After its death around of a place of its burial place, winter and years mosques, a minaret, a pond have been built.
Mausoleum Abdal Bobo is executed in Bukhara style. Abdal Bobob, was born in kishlak Zamtchi, near to Bukhara, was the distant descendant of prophet Muhammada.
Enlightener:
http://www.pagetour.org