Abdulaziz khan madrasah.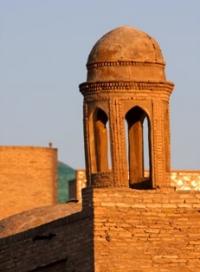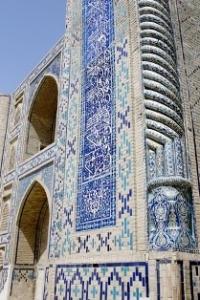 Tours on ancient madrasahs Bukhara.
«History repeats itself»
Fukdid, the ancient greek historian.
Leisure destinations in Bukhara.
Opposite Ulugbek Madrassah there is Abdullaziz-khan Madrassah. Abdullaziz-khan built it in 1651 – 1652 and it is the last large Madrassah in Bukhara. The building is typical by composition, with four-ayvans yard, but with unordinary divergent fan of hudj groups after side ayvans and cupola buildings on the central axis.
The Ulughbek madrasa (1417) on the left (north) is the oldest in Central Asia, and was the prototype for the synonymous and much more extravagant one built three years later Samarkand.
'To strive for knowledge is the duty of each Muslim man and Muslim woman, says the-for Ulughbek-typically enlightened inscription over the entrance. The architect, Ismail ibn Takhir ibn Makhmud Isfagani, was probably related to an Iranian captured by Tamerlane to work in Samarkand and Shakhrisabz.
 It is not usually possible to go inside, but the proportions and decoration of the facade, including the ceramic plaiting on its main lancet arch, contain much that was later associated with the XVI century 'Bukhara school' of architecture.
It is very interesting the improvent of living lodgings, which consisted of entrance hall and hudjra, and were equipped with free-places, attic storeys, wall niches for bed clothes, dishes, decorated in conformity with the taste of inhabitants, who rented these apartments during their study.
Away from Poi-Kalyan ensemble we can see trade arcades, belonging to the end of XVI century Taki-Telpak Phurushon and Taki Sarraphon. Head-dresses were sold in Taki-Telpak Phurushon : skull-caps embroidered with beads, brocade and silk, fur-fox hats, turbans.
Currency transactions were accomplished under Taki Sarraphon dome, shroffs mediates in international trade affairs. The cupolas are inimitable in their architecture and constructions. The most expressive of them is Taki Sarraphon with cruciform passage through central hall and apartments behind its beveled corners: in one room there was mosque, in another – the entrance into old Saraphon baths, in other two ones – usurer stores.
Constructive basis is four massive crossing archs, you can see inside and outside. These were relatively cushy; split-level studios with fireplaces and large storage niches for clothes and bedding. Students usually rented them for their whole period of study.
When numbers fell the madrasa was used as a caravanserai. The phoenixes and snake-headed birds in the pishtatfs mosaics represent a brave break with the Islamic tradition of not depicting animal life.
(Two other well-known porticoes which break the rule-those of the nearby Nadir Divanbegi madrasa and Samarkand's Sher Dor madrasa-are also mid-XVII century). Inside, fres­coes of stylized landscapes betraying Chinese and Moghul Indian influence survive in the large ex-lecture hall, which now sells carpets, on the left.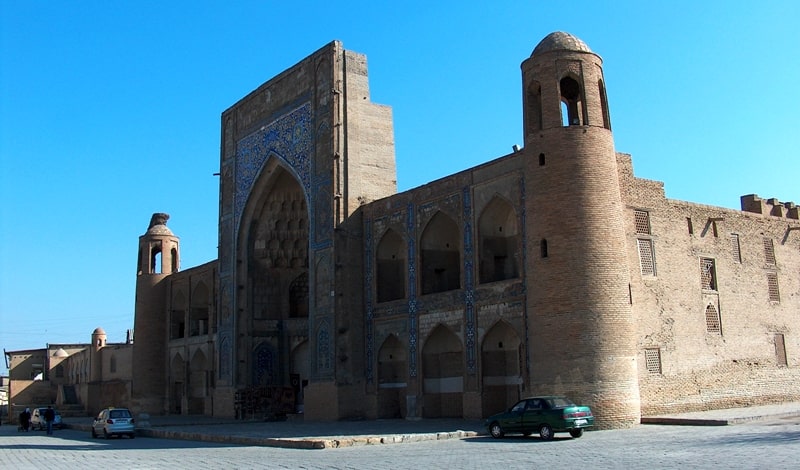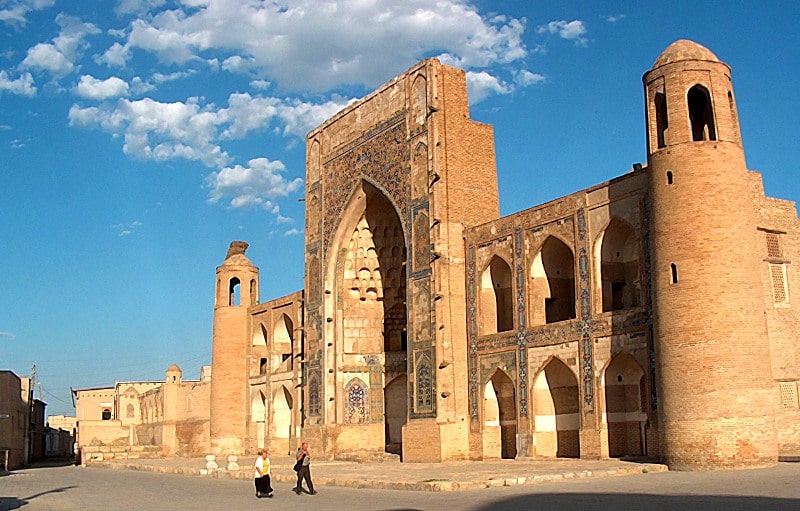 Authority:
V.G Saakov «History of Bukhara». Publishing house "Shark", 1996. «Bukhara. Masterpieces of the Central Asia». The historical guidebook across Bukhara. 2012. "Bukhoro. Bukhara" In the Uzbek, English and Russian languages. Publishing house "Uzbekistan", Tashkent 2000. Mukhammad Narkshakhi. History of Bukhara. Tashkent. 1897 (translator N.Lykoshina). V.G.Saakov  "Architectural masterpieces of Bukhara. A Bukhara regional society "Kitabhon" Uzbek SSR, Exactly 1991 Robert Almeev. "History of ancient Bukhara". (Under edition of the Academician of the Academy of sciences of Republic Uzbekistan of Rtveladze E.V.).
Photos
Alexander Petrov and Sergey Mikhalkov.