Abdulla-khan madrasah.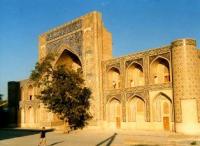 Sightseeing tour on monuments of Bukhara.
"Only he deserves a monument who does not need it."
William Gaslitt.
Leisure break in Bukhara.
Madrasah Abdulla-khan, it is constructed in 1588 - 1590, - the most outstanding product of the central-Asian architecture. The front entrance of it madrasah, is issued in the form of a high portal.
The Main principle of a lay-out has remained constant - premises are placed around of a court yard. However the construction is much more complex: the front entrance has a high portal which premises with two-storeyed loggias and gallery on the top floor adjoin.
Greater sizes of a facade and a variety decorative furnish give to a construction a colourful, celebratory kind. At a bright sunlight are well visible cold tone majolica tiles (dark blue, greenish-blue, white).
With greater art doors медресе, collected of separate slices of a tree with the most thin groove, without a uniform nail are made.
Authority:
V.G Saakov «History of Bukhara». Publishing house "Shark", 1996. «Bukhara. Masterpieces of the Central Asia». The historical guidebook across Bukhara. 2012. "Bukhoro. Bukhara" In the Uzbek, English and Russian languages. Publishing house "Uzbekistan", Tashkent 2000. Mukhammad Narkshakhi. History of Bukhara. Tashkent. 1897 (translator N.Lykoshina). V.G.Saakov  "Architectural masterpieces of Bukhara. A Bukhara regional society "Kitabhon" Uzbek SSR, Exactly 1991 Robert Almeev. "History of ancient Bukhara". (Under edition of the Academician of the Academy of sciences of Republic Uzbekistan of Rtveladze E.V.)
Photos
Alexander Petrov.