Aiyrtau mountains in Kokshetau park.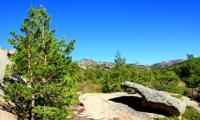 Trip to Aiyrtau mountains from Kokshetau.
"Geography, the only one of all sciences, arose from action and, moreover, courageous action ... Like other sciences, geography made its way to the truth through a whole series of errors and errors ... Is modern chemistry our key science - did not go through its shameful phase of alchemy (monstrously developed fraud), and did our knowledge of the starry world not come from the superstitious idealism of astrology, which sought human destiny in the depths of infinity? From this point of view, geography can be called the most flawless of sciences. Even while fiction, she never tried to fool ordinary mortals (and their overwhelming majority), to lure money from them, to deprive them of peace"
Joseph Conrad "Geography and some researchers. Favorites in two volumes. T. 2.M., 1959, p. 658 - 654.
Tours to Aiyrtau mountains from Astana.
Aiyrtau Mountains - a low-mountain massif in the Aiyrtau region of the North Kazakhstan region. It is located in the northwest of the Kokchetav Upland between the lakes Imantau and Chelkar in the territory of the Kokshetau National Park.
Several peaks exceed 500 meters, including the Fractured Hill 523 meters above sea level and the Elder Brother 516 meters above sea level. The slopes are covered with pine forest. In the mountains of Ayyrtau is the main part of the Kokshetau National Park.
The mountains stretch from the west east for 25 kilometers, in the east the mountains end with a small ridge Aksuran with a dominant hill Aksuran 555.5 meters high above sea level. The width of the mountain range from south to north is 22 kilometers.
The northern border of the mountains is Lake Shalkar; in the south of the mountain, a small valley of the Zmeyka River borders. From the east, the mountains are bounded by the salt lake Beloe located at an altitude of 376, to meters above sea level. In the central part of the massif are two lakes Lobanovskoe and Baysary.
In the southwest, the mountains border the beautiful Imantau Lake.
Authority and photos:
Alexander Petrov.