Ancient settlement Kyzyl kala in Turkmenistan.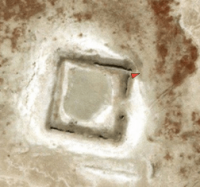 Photo tours in Balkan velayat.
"You want to be an author: read the history of the misfortunes of the human race - and if your heart does not shed blood, then leave the pen, or it will depict to us the cold gloom of your soul"
Karamzin N.M.
Guide to Balkan velayat.
The Kyzyl Kala settlement (Red Fortress) is located at an altitude of 153 meters above sea level, located in the northwestern part of the Masrian plain and in the southwestern part of the Choganly plain, in the northwestern part of the Khurmen sands, 17.4 kilometers to the north-west from the village of Madau, 34.3 kilometers northeast of the small village of Indyrlan, 7.2 kilometers southwest of the Dehistan settlement in the Etrek etrap of the Balkan velayat.
Among the ruins of cities that lay in the northern part of the Masrian plain, one can see caravanserais, and the walls of the cities were adequately fortified. Kyzyl Kala is a medieval city of the IXth - XVth centuries, shahristan - a citadel almost in the very center - and a suburb - rabad stand out on the site.
The partly preserved wall of the citadel rises from the outside to a height of 4.9 meters. It was fortified with seven towers. In the city there were many rich buildings of baked bricks and, moreover, with figured bricks in the form of "bows", which served to decorate the outer walls.
Perhaps the city owed its name to the abundance of brick buildings ("Sort", "Sorkh" - in Persian "Red"). Behind the red fortress, again, traces of fields betray one of the occupations of the population.
Geographic coordinates of the settlement of Kyzyl-kala Vostochnaya (Red Fortress): N38 ° 17'37.31 "E54 ° 30'14.86"
Authority:
"Ancient and new roads of Turkmenistan". V.S. Zaletaev. 2009.
http://etnolingvistika.ru