Ancient trade dome Chorsu in Samarkand.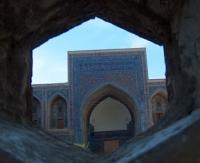 A trip from Astana to Samarkand.
"History is written today, and rewritten tomorrow"
Domes of Samarkand.
Behind the Sher Dor madrasah is located the ancient trade dome Chorsu. Now it is restored. Chorsu (Uzbek. Chorsu - covered market, letters. Four corners) - a building located near the Sherdor Madrasa. Chorsu shopping dome is located in the historical center of Samaranda and is included in the architectural ensemble of Registan Square.
In the immediate vicinity are local attractions such as the Sheibanids tombstone complex, Sher-Dor Madrasa, Tilla Kori Madrasa and Ulugbek Madrasa. The monument is located on Tashkent street. Translated into Russian, "Chorsu" means "Crossroads".
This is the common name of the ancient shopping centers in Central Asia, which also preserved one of the old bazaars of Tashkent. The building is a hexagon-shaped pavilion, topped with one large dome in the center and six smaller domes in the center line of each of the wall faces.
Chorsu was built in the XV century at the intersection of roads connecting Samarkand with Shakhrisabz, Bukhara and Tashkent. At the beginning of the XVIII century, the building was rebuilt and turned into a place of trade in headgear.
The building served as a business and shopping center. Here they not only sold various goods, but also concluded deals and agreements. By the 18th century, the building was used as a center for the sale of hats.
In 2005, the trade dome was restored, at the same time, in order to restore the full height of the building, a three-meter layer of soil was cleaned off. Now in the trade dome of Chorsu there is a gallery of fine art, where works of Uzbek artists and sculptors, as well as invaluable works of the past, are exhibited.
In 2005, the building was transferred to the local Academy of Arts as an exhibition gallery. Today you can see examples of works of art by contemporary Uzbek authors.
Enlightener:
"Religious and spiritual monuments of Central Asia." Author M. Khashimov. Saga Publishing, 2001 Collection "Architectural and archeological monuments of Uzbekistan", Saga, 2003. "Samarkand. Reference Guide ", Authors I.Umnyakov, Y. Alekserov. Arapov A.V. Samarkand "Masterpieces of Central Asia". Media-Asia San'at Publishing House 2008. Arapov A.V. "Samarkand. Guidebook Publishing house Media-Asia San'ath 2007.
Photos by
Alexander Petrov.
Domes of Samarkand.
A trip from Astana to Samarkand.