Architecture of Khiva.
Excursions on architectural monuments of Khiva.
"A doctor can bury his mistake, an architect - except to plant walls with ivy"
Frank Lloyd Wright.
A brief description of the tourist routes in Khiva.
Mystical city Khiva succeeded to keeping its exotically shape of eastern city in the ancient parts of Ichan-Kala, where disposed numerous of architectural monuments. Khiva is divided into two parts such as outer town (Dishan Kala) and inner town (Ichan Kala). The Dishan Kala was defended by a wall with 11 gates while the Ichan Kala was surrounded by a brick wall with 4 gates.
The base of the wall is supposed to have been laid in the tenth century. The walls with approximately 10 meter height which have still been preserved were built in the seventeenth century.
More than 50 historical memorials and monuments as well as about 250 old houses have still been preserved in the old town. Most of them were built in the eighteenth and nineteenth centuries.
For example, one of them is Djuma Mosque founded in the tenth century which is presently located in Ichan Kala. Despite of the reconstruction in 1788-89, some part of the building with 112 columns haven't been touched as an ancient structure.
Being popular with the name of "Museum under the Open Sky", Khiva comprises almost all historical monuments and memorials and here below are listed many of them:
Ichan-Kala: The Mosque and Madrasah of Said-bay (end of XVIII -beginning of XIX centuries), it's around the gate of Palvan Darvaza:
Madrasah of Alla-Kuuli-khan (1834 - 1835),
Madrasah of Kutlug-Murad-Inak (1804 - 1812),
Bridge and Caravansary of Alla-Kuli-khan (XIXth century),
Madrasah of Abdulla-Khan (1865),
The Mosque and Palace of Anush-Kan (1657),
Tash-Hayli (the stone lot)(of Allakuli-Khan) (1830 - 1836),
Ak-Mosque (the white mosque ) (1832 - 1842),
The Mosque and Minaret of Juma (1788 - 1889),
Mausoleum of Said Alauddin (XIV century),
Madrasah of Muhammad Amin-Khan (1851 - 1852),
Minaret of Kalta Minor (1855),
Kun'ya-Ark (1868 - 1888),
Minaret of Tura-Murat-Tur (1888),
Madrasah of Muhammad Amin Han (1871),
Madrasah of Shirgazi-Khan (1718 - 1720),
The Mosque of Boglandi (XIX century),
Madrasah of Arabhan (1838).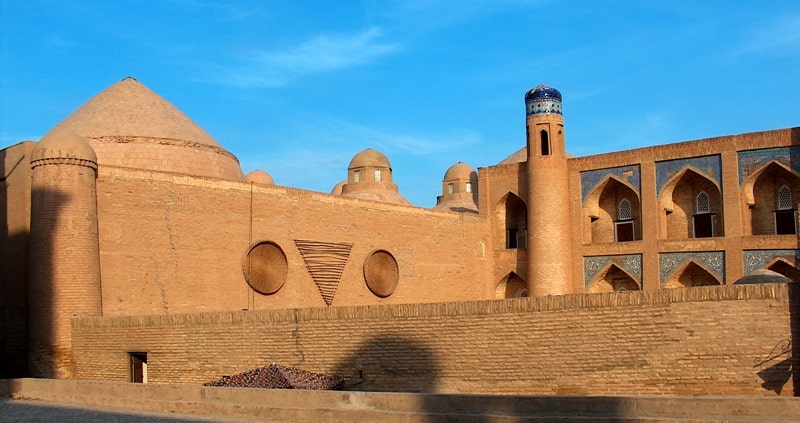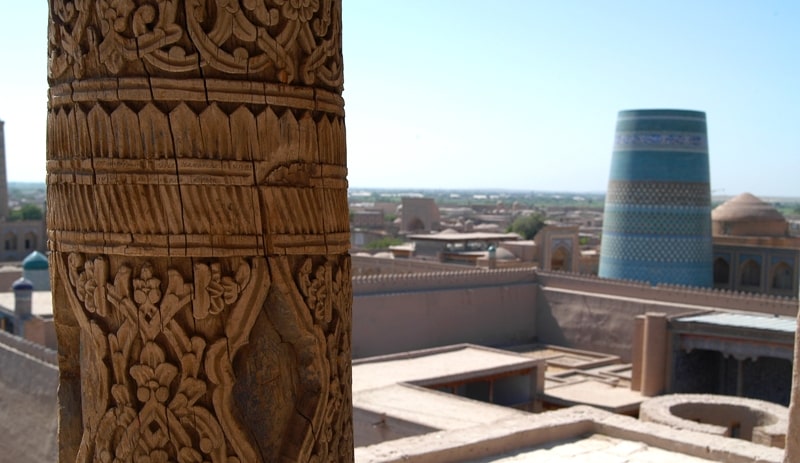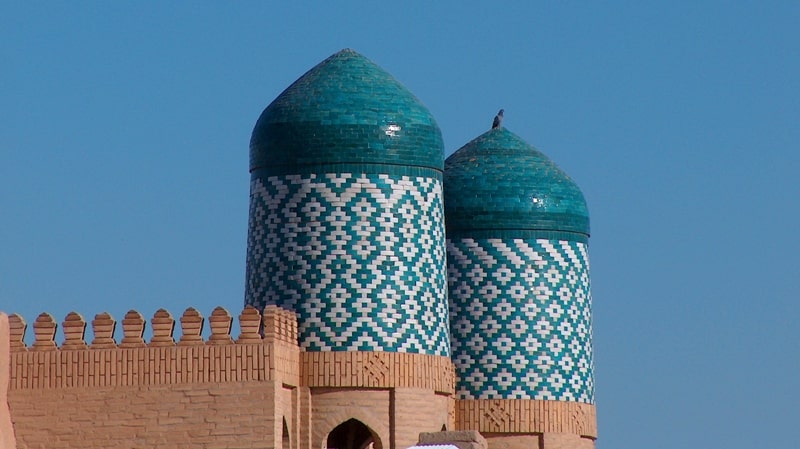 Authority:
«Khiva city and legends» the tourist guidebook across Khiva".
Photos
Alexander Petrov.