Arsla-khana khanaka.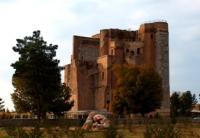 Services on the organization of travel in Uzbekistan.
"My ten arrows were stinging sharper
Their strength kept the unity of the steppes,
My people were strong and did not know the humiliation
Disasters did not know and did not know defeat "
Ildar Nuraddin.
Class trip in Shakhrizabs.
For east facade of the mausoleum of sheikh Kulyala in Shakhrisabz, on a place of an ancient cemetery archeologic excavation the rests of the construction concerning by XVII century have been found out.
The rectangular form of the plan has been preserved up to a level of a socle.
Enlightener:
 «The Guidebook on tourist places of interest of the Kashkadarya province». 2011.