Chubin madrasah.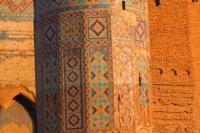 Walks on architectural monuments Shakhrisabz.
"Your Lord directed you not to worship anyone but Him and do good to your parents. If one of the parents or both attains old age, then do not tell them: "words of discontent" - do not shout at them and address them respectfully. Bow down before them a wing of humility according to your mercy, and say: "Lord! Have mercy on them, because they raised me as a child. "
Surah 17, verses 23-24.
Historical tours of Shakhrisabz.
The architectural complex Chubin is situated in the north-east of the city, in the makhalla of the same name. No historical or literary data on the construction of the complex are available. The name 'Chubin' most likely refers to the former home of a community of woodworkers.
The monument is a complex composed of functionally interdependent links - mosque, khudzhra, constituting a courtyard and darvazakhona. The layout of the main facility of the mosque complex is worked out on two concurrent axes.
The compositional center of the building is the square hall covered with a dome. On the west-east axis there is a deep half-octahedral niche serving as mekhrab and the focus of the interior space.
On the same axis to the east of the entrance into the mosque is situated a half-octahedral portal niche. On the north-south axis there are two domed halls connected with the main hall by low- level openings and portal entrances overlooking the external facades.
The halls are flanked by symmetrical vaulted rooms also facing the external facades and with arch niches. The corner spaces are filled with domed enfilades of two rooms apiece. The external facades of these rooms also have arch niches.
In the western enfilades there are additional passages from the main hall in the form of corridors. Thus, the layout concept of the building preserved conventional features inherited from the composite solution of similar monuments of the XIVth - XVth centuries.
The facades of the building have a conventional symmetry. The symmetrical axis of the three facades northern, eastern and southern is emphasized by portals. The planes of pylons are transformed into small niches by pilasters.
In the niches, arches of four-centered outline are arranged. The layout of the monument may be referred to as central with the emphasis on the principal facade facing the courtyard. The structural-spacial composition of Chubin functionally refers to the honako architectural type and plays a special role in the town-planning structure of Shakhrisabz, with a place in the system of architectural focal points of the ancient city.
Authority:
http://www.discovery-central-asia.com
Photos
Alexander Petrov.