Balkanabad town.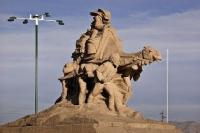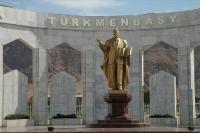 Sights of the town of Balkanabad.
Founded in 1933, the village of Nebit Dag is translated from Turkmen language as "Oil Mountain".
It appeared here, at the foot of the Big Balkan range because of the discovery of large oil deposits at this spot.
After the collapse of USSR and proclamation of independence of Turkmenistan, Nebit Dag has become the center of the Balkan province (velayat), and in 1999 it was renamed into Balkanabad. In our days the city is under massive construction, streets are expanding, population is growing up.
During several last years in Balkanabat were built: state drama theater, museum of natural history, the diagnostic center, the wedding palace, a new railway station building, a state library, a stadium for 10 thousand seats and others.
Authority:
On materials of information department of the State committee of Turkmenistan on tourism and sport.