Base Camp "Southern Inylchek".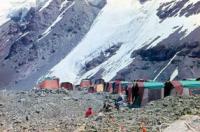 Routes of ascentions from mountaineering camps Central Tien-Shan.
"We leave something of ourselves behind when we leave a place, we stay there, even though we go away. And there are things in us that we can find again only by going back there" 
Pascal Mercier. «Night Train to Lisbon».
Trip from Almaty to Karkara valley.
The base camp "Southern Inylchek" is located on the left party of glacier Southern Inylchek which was extended from the east on the West, on merge to glacier the Zvezdochka which adjoins from the south, going down with slopes of peak the Pobeda. 
The camp is at height, approximately 3900 - 4000 meters above sea level.
The base camp serves for basing expeditions for an ascention on seven thousands Pobeda peaks of 7439 meters above sea level, Khan Tengri of 7010 meters above sea level.
The base camp is equipped by warm dining room with bar, comfortable tents, toilets, bath. In camp there is doctor, radio communication, satellite phone.
Authority:
 Alexander Petrov.
Photos
Vladimir Serbenko.