Bayankol Peak.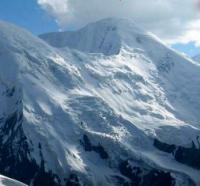 Climbing Bayankol peak.
"I love peaks, as an individual person, as equal parts of a larger whole."
Herbert Tychy.
Climbing to peaks Bayankol gorge.
Bayankol peak is located at an altitude of 5790 meters above sea level, located in the main ridge of the Saryjaz ridge in the Narynkol district of the Almaty region. The domed peak of Bayankol peak is located between the peak Kazakhstan, 5769 meters above sea level in the east, and slightly to the south, and the Odinndsati West peak, 5428 meters above sea level, in the northwest.
Distance from Bayankol Peak to Eleven Zapadny Peak is 2 kilometers, to Kazakhstan Peak 1.9 kilometers.
On the northern slope of the Sarydzhaz ridge from Bayankol peak, the Western Bayankol glacier with a length of 7.2 kilometers descends. To the south, along the western couloir from Bayankol Peak, a 3.4 kilometers long glacier descends, which at an altitude of 4185 meters above sea level connects with the North Inylchek glacier.
A small ridge descends to the south from the summit, which after 630 meters ends with a steep rocky slope about 700 meters long. The top of the peak is ice-snowy. To the south of the summit, from east to west, at the beginning of the descent of the southern glacier, a crack extends over 230 meters.
The entire northern slope is snow-ice. The tongue of the Central Bayankol glacier ends at an altitude of 3305 meters above sea level, from here the sources of the Sarykoinou River begin. The difficulty category of the classic routes to Bayankol peak is rated at 4B, 5B.
The first ascent to the summit, from the northern side along the Central Bayankol glacier, was undertaken in 1953 by a team of the Kazakh Republican Climbing Club. The team of the Kazakh Republican Council of the DSO "Spartak" in the period from 14 to 22 August 1965 made the traverse of the peaks: Bayankol 5791 meters above sea level - the peak of Kazakhstan 5669 meters above sea level, Karly Tau peak 5550 meters above sea level and the peak of the Marble Wall with a height of 6140 meters above sea level, declared for the USSR championship in the class of traverses. Traverse participants: V. Savin, B. Sudenin, G. Petrashko, G. Sverdlina, M. Akimenkov, b, Burambaev, I. Damianidi, G. Fedotov. G. Kireev. D, Ermilova.
Geographic coordinates of Bayankol peak: N42 ° 16'59.23 "E80 ° 12'26.29"
Authority:
Alexander Petrov.
Photos by
Sergei Mikhalkov, Almaty city