Big Almaty river.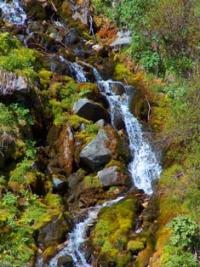 Rest on river Big Almaty in vicinity of Almaty.
«Every creature lives in a state of war by nature»
Jonathan Swift.
Walk along river Big Almaty.
Big Almaty river. It is the right tributory of Kaskelen river. In the valley of the river was built the dam HES. River Big Almaty, right inflow of the river Kaskelen. Length is 96 kilometers. It is formed by merge of three rivers.
Left (western) is known under the name of the river point, the right inflow originating from the valley Kyzyl Say - the river of Tourist and the river flowing from the pass Ozernyi - Ozernyi. Right (east) river Big Almaty.
The valley of the river through passage is bordered on a trap with the Kargaly spur, and in the east – Big Almaty. In the valley of the river the dam, the cascade is built from 7 hydroelectric power stations.
In the South and the southeast she becomes isolated the main crest of the ridge which has the direction to the northeast here.
Authority:
"Zhetysu is the Land of  tourism". A Tourist Guide-book. Almaty.  2003. 68 p. and the material for this page is taken from the printed edition.
Photos
Alexander Petrov.