Buguly mountains.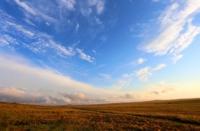 Private Guide in Karaganda.
 "Night poured over the desert. It came suddenly, in purple. In the clear air, the stars drilled down out of the sky, reminding any thoughtful watcher that it is in the deserts and high places that religions are generated. When men see nothing but bottomless infinity over their heads they have always had a driving and desperate urge to find someone to put in the wa" 
Terry Pratchett, "Jingo".
Karaganda holidays Tours.
The Buguly mountain range is located in the central part of the Kazakh small hills in the Shetsky district of the Karaganda region. The mountains are stretched from southwest to northeast for 42 kilometers, the greatest width is up to 21 kilometers.
The Buguly Mountains are formed by granites of middle and upper carbon. The slopes are very dissected. The Buguly Mountains include the northernmost spur of Kosmuryn with a dominant nameless elevation of 1,087 meters above sea level.
The eastern most spur of Carakezen with a mark of 926 meters above sea level. Between the mountains of Kosmuryn and Karakezen is a small spur Bakai. The western tip of Buguly is bordered by the spur of the Berkut with the Berkut mountain 1,184 meters above sea level, which is also the highest in the Buguly mountains.
On the south side of the Buguly massif, the spur Zhamantas borders on Mount Kosshoky 1099 meters above sea level. Three mountains Aul-Albukair, Karashoky and Karabulak rise from the southwest side of the Zhamantas mountains.
In the very south, Zhananas Mountains end with the lonely hill of Karashoky on the east side of which is the Unrek reservoir, and 2.5 kilometers from which is the village of Unrek. In the northwestern part of the massif is located the spur of Murta with a dominant mountain 1075 meters above sea level.
Almost in the central part of the Buguly mountains there are two reservoirs under the same name Darinskoe. The fauna of the mountains is made up of acacia woods, birch and aspen groves, shrubbery of wild rose, wormwood, feather grass and others grow in the meadowsweet of herbaceous plants.
In the central part of the Buguly mountains, small rivers Unrek, Shopa, Egindybulak, Daria, Shortanda, drying out in the summer season, originate. The basis of the fauna of the mammals of the Buguly mountains is represented by the red-cheeked ground squirrel, gray marmot, steppe mouse, and field vole.
From predators there are a wolf, a fox, a badger, a light ferret, a weasel. Of mammals, wild boar, Siberian roe deer are found.
Authority and photos
Alexander Petrov.