Caves in Karkaraly park.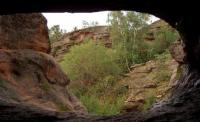 Walking in Kazakhstan.
"Nature is wise. You can learn everywhere and from everything"
Leonardo da Vinci.
Walking in Karaganda.
The Karkaraly Mountains have an abundance of caves which relate to different periods of human history. Those caves to the north of the town of Karkaralinsk are the most popular with visitors.  Among them there are the caves inhabited in the Bronze Age and some with signs of relatively recent occupation.
The former are represented by the so-called Ushchelye Peshcher (the Ravine of the Caves), with numerous springs. The most famous among the modern caves is the cave Bolshaya Palatka (the Huge Tent) which is a source of curiosity for those with an interest in recent history.
It comprises a 10 meter deep cavity in the rock, some 8 meters high and 15-20 meters in width. This cave is considered a house-register of Karkaraly, for its walls are covered with lots of inscriptions, most of which date back to the early XXth century.
Well-known names can be found there alongside the names of ordinary tourists who visited this place during the last century.
Authority:
Advertising booklet of Karkaraly National Park, 2003.
Photos
Alexander Petrov.