Chillay Avliay Minaret in Khiva.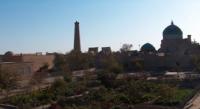 Fam tour on monuments of Khiva.
"To my edification, adore the ear,
They will save you from mistakes.
The life of a person is affected by the environment
Dangerous it is sometimes.
Appreciate your youth, take care of her,
See that it does not burn the flame of passion.
Thin inclinations from the heart chase -
The tormenting shame they engender. "
                                                                                                                                                 Amir Khosrov Dehlevi (1253 - 1325).
Whistle-stop trip in Khiva.
Minaret Chilly Avliay has been constructed in XIX century. It is located near to madrasah Chilly Avliay, on crossing with K.Yakubov's street and belongs to the external city of Dishan-kala.
The minaret is constructed from burnt a brick, has four arch apertures with internal ladders, is decorated by a belt of a majolica.
The size of a minaret, height - 12 meters, diameter of the basis - 3.5 meters.
Authority:
http://www.pagetour.org