Abdal-Bobo Minaret in Khiva.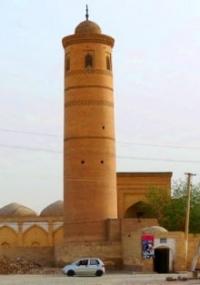 Architectural monuments in territory of Khiva.
"In the southwestern side of this city, two hundred steps from it, is the residence of hazret Sheikh Hussein Baba 28, may his mystery be sanctified? There is a large shady tree called Gujum. And further. Very tasty rice and hivaka melon. Its climate is healthy, and people [by nature] are good. The winter is somewhat cool there. The most severe winter lasts a month. Then the ground is covered with ice about three spans thick, and in Gurlen, Khoja Eli (Khodjeyli) and Kongurate it reaches three or four yaz ..."
Historian Hudaiberdi ibn Koshmuhammad Khivaki "Dil Gara'ib", "Heart of Rarities".
Book travel in Khiva.
Minaret Abdal-Bobo is a small (height - 10m, base diameter - 3.2m) but expressive tower, in the shape of a fat, sharply tapering barrel, crowned by an elegant cornice, or "Sharaf".
On the way to Koy-Darvaza sits the architectural complex of Abdal-Bobo, developed around a small cemetery.
Here in the House Bank, the largest quarter mosque, slaves were traded. 
Authority:
«Khiva city and legends» the tourist guidebook across Khiva".