Glacier East Small Ala-Archa.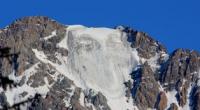 Tourism in Ala-Archa park.
"The frosty day is over,
The light of dawn went out.
Beyond the neighboring lake
An overnight stay is waiting for us.
Do not be sad on the way
That your home is far away
You will learn a lot
On his way."
Yuri Vizbor. "Karelian Waltz". September 24, 1955.
Ala-Archa park guide.
The East Small Ala-Archa glacier is located in the upper reaches of the Ala-Archa gorge, west of the West Big Ala-Archinsky glacier, 51 kilometers south and slightly west of the city of Bishkek, on the northern slope of the Kyrgyz ridge in the Alamudun district of the Chui region.
The sources of the glacier are located at an altitude of 4050 meters above sea level in the main ridge of the ridge. The glacier is 2.2 kilometers long, the open part of the glacier is 1.4 kilometers, the rest of the glacier is under the moraine.
The tongue of the glacier is located at an altitude of 3128 meters above sea level. At an altitude of 3402 meters, the glacier adjoins the western part of the Western Bolshoi Ala-Archinsky glacier. The open area of ​​the glacier is 531458 square meters.
The headwaters of the Ala-Archa River begin from the glacier. On the southern side of the ridge there are three large moraine lakes, from which the headwaters of the Ala-Archa South River begin.
Geographic coordinates of the East Small Ala-Archa glacier: N42 ° 26'20.52 "E74 ° 26'15.38"
Authority and photos by
Alexander Petrov.