Glacier Jambyl. Dzungarskiy Ala-Tau.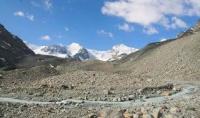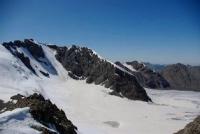 Dzungarskiy Ala-Tau Tours Kazakhstan.
"Though we travel the world over to find the beautiful, we must carry it with us, or we find it not" 
Ralph Waldo Emerson. "Emerson's Essays".
The Great Silk Road Kazakhstan and Dzungarskiy Ala-Tau.
The glacier of Jambyl is the difficult valley glacier located on a northern slope of the Dzungarskiy Ala-Tau in riverheads Small Baskan (river Lepsy). The area is 2 kilometers square, length is 6 kilometers, the area of an ablyation is 5,7 kilometers square, the volume of ice is 101 kilometers cubic, the average thickness of ice is 100 meters.
The wall of ice 5 kilometers long with top of Semenov-Tien-Shanskiy of 4560 meters above sea level, peak of Jambyl of 4250 meters is above sea level plentifully snow-covered, occupies the top part of the valley. The glacier terminates at the height of 3600 meters of meters above sea level.
Since 1956 the sector of geography was studied (since 1983 the Institute of geography of AN of Kazakhstan observes area of an ablyation, language surface height, the provision of its end, determination of speed of the movement of ice. In 1957, 1959, 1963, 1968 research works, in 1966 - phototheodolitic shooting were carried out.
The name of Jambyl is appropriated to a glacier by route group of the Sector of geography of Kazakhstan in 1947.
Authority:
"Zhetysu is the Land of  tourism". A Tourist Guide-book. Almaty.  2003. 68 p. and the material for this page is taken from the printed edition.
Photos
Alexander Petrov.