Glacier of Kaindy.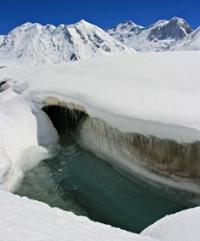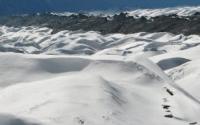 Issyk-Kul lake and Silk Road Tour.
"I address you all tonight for who you truly are: wizards, mermaids, travelers, adventurers, and magicians. You are the true dreamers" 
Brian Selznick.
Kyrgyzstan private tour.
Next to the south of the Inylchek River, the Kaindy River flows into the Sary-Jaz River. There are 113 glaciers in the basin of this river with a total area of ​​151.3 square kilometers. At the head of the Kaindy River is the Kaindy Glacier, with a length of 29.0 kilometers and an area of ​​84.1 square kilometers.
Its feeding area occupies two huge circuses at an altitude of more than 5500 meters above sea level and, through a low ice section, connects to the feeding area of ​​the Komsomolsky glacier, a tributary of the South Inylchek glacier.
The end of the glacier with a thickness of about 170 meters with a wide blade descends to an altitude of 3400 meters above sea level. Between 1943 and 1960, the end of the glacier advanced 1.3 kilometers, and in 1960 its surface was a chaotic pile of acute-angled ice blocks.
Further advancement of the glacier ceased, and after 5 years its surface became much smoother (Osmonov. 1974). At present, the lower 10 kilometers of the glacier are under the moraine, there are many hillocks on its surface, many of which are filled with water, which indicates degradation of the glacier after movement.
To the south of the Kayyngdy-Katta ridge is the valley of the Kuyukap River, which is a narrow gorge with sheer walls. Only in the upper reaches it expands, and there are large glaciers. In total, there are 45 glaciers in the Kuyukap river basin with an area of ​​76.8 square kilometers.
Authority:
"Glaciers." L.D. Dolgushin, G.B. Osipova. Series "Nature of the world." Moscow, the publishing house "Thought". 1989.
Photos by
Alexander Petrov.