Glacier of Northern Kara-Sai.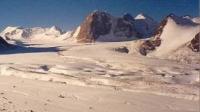 Informative travel to Kyrgyzstan mpuntains.
"All that is gold does not glitter,
Not all those who wander are lost" 
J.R.R. Tolkien.
Sights mountains in Kyrgyzstan.
The Northern Kara-Sai Glacier, with a length of 12.2 kilometers, an area of ​​49.2 kilometers square , located at an altitude of 3800 to 4950 meters above sea level, belongs to the Naryn river basin, with its headwaters in the very center of the massif, is connected with the firn fields of the Petrov Glacier.
At the beginning of the XXth century, the glacier advanced, leaving the final moraine and dam lake. In the late 50s The surface of the tongue was covered with many hillocks with lakes. Such a relief is characteristic of inactive ice.
But by 1958, the glacier advanced 920 - 1000 meters, forming a pressure moraine up to 40 - 45 meters high and about 150 meters wide. The advance was apparently short-lived and occurred in 1955-1956. (Bondarev. 1963).
Judging by the AFS of 1967, the glacier again began to retreat in 1973 (KS) retreat continued.
Authority:
"Glaciers." L.D. Dolgushin, G.B. Osipova. Series "Nature of the world." Moscow, the publishing house "Thought". 1989.
Photos by
Alexander Petrov.