Glacier Western Small Ala-Archa.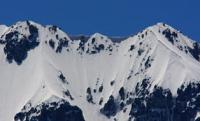 Excursions to natural parks of Kyrgyzstan.
"The masses thundered loudly,
The pass swayed
The rockfalls clattered
On the wreckage of wet rocks"
Yuri Vizbor. September 19554.
Trip to Ala-Archa park from Bishkek.
The Western Small Ala-Archa glacier is located in the upper reaches of the Ala-Archa gorge, 50.5 kilometers south-west of the city of Bishkek, on the northern slope of the Kyrgyz ridge in the Alamudun district of the Chui oblast.
The glacier is fenced off by a small ridge that stretches from south to east for 2.4 kilometers from the Maly Vostochny Ala-Archa glacier. The headwaters of the glacier begin at an altitude of 4032 meters above sea level in the main ridge of the ridge.
In the eastern part of the ridge, which separates the Western Maly Ala-Archinsky glacier from the Fedorovich glacier basin, there are two passes: Asanaliev, 3919 meters above sea level, and Staraya Gvardiya, 3816 meters above sea level.
The length of the right branch of the glacier is 1.2 kilometers, the length of the left branch is 1.3 kilometers. The open part of the glacier is 1.31 square kilometers, the rest of the glacier is under the moraine. At an altitude of 3408, the glacier adjoins the western part of the Western Bolshoi Ala-Archinsky glacier.
The tongue of the glacier is located at an altitude of 3399 meters above sea level.
Geographic coordinates of the Western Small Ala-Archa glacier: N42 ° 26'44.60 "E74 ° 25'28.97"
Authority and photos by
Alexander Petrov.