Glaciers of Big Saukdara.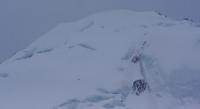 Climbing in mountains Tajikistan.
"For twelve days you ride along that plain, it is called the Pamir; and in all twelve days of the journey there is neither shelter nor grass; you need to bring food with you. There are no birds here because it is high and cold. From the eternal cold, the fire is not so light and not the same color as in other places, and food is not cooked so well"
Traveler Marco Polo.
Climbing in Zaalaysky ridge.
The Big Saukdara Glacier is located in the Murghab region of the Gorno-Badakhshan Autonomous Region on the southern slopes of the Zaalai Range in Tajikistan. The length of the glacier is 20.6 kilometers, an area of ​​23.5 kilometers square, located in the upper Sauksay River.
Below the active end to an altitude of 3940 metro above sea level, lies a large stretch of dead ice. This glacier intensified in the 1970s, and a dammed lake formed on its sharp bend in the valley of the North Zulumart River.
In August 1977, the lake broke through, leaving icebergs on the ground.
Authority:
"Glaciers." L.D. Dolgushin, G.B. Osipova. Series "Nature of the world." Moscow, the publishing house "Thought". 1989.
Photos
Alexander Petrov.