Glaciers of Preobrazhensky.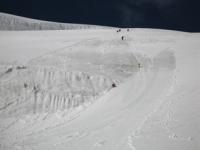 Travel to Northern Tajikistan.
"The traveler sees what he sees. The tourist sees what he has come to see" 
G.K. Chesterton.
Travel across Sughd region Tajikistan.
Preobrazhensky Glacier is located in the Sogd region of Tajikistan on the southern slope of the Turkestan Range, and belongs to the Zarafshan River Basin. Among them is the Preobrazhenskiy dendritic glacier (12.8 kilometers long, 17.8 square kilometers in area, ice volume is over 9 kilometers cubic).
This glacier merges from two roughly equivalent streams - the Preobrazhensky and Rama glaciers, which have well-defined multi-chamber feeding areas and long glaciers that first flow through their valleys and then merge into a common glacier about 4 kilometers long.
At the end of the glacier at an altitude of 2960 Preobrazhensky-Rama are large areas of dead ice buried under a moraine.
Authority:
"Glaciers." L.D. Dolgushin, G.B. Osipova. Series "Nature of the world." Moscow, the publishing house "Thought". 1989.