House Matvafo Karvanboshi.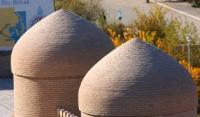 Architectural monuments of Khiva.
"The talent of the historian is to create a true whole of parts that are only half true"
Joseph Ernest Renan.
Uzbekistan section of the Silk Road.
Matvafo Karvanboshi (Bakkalov) had two houses - years and winter, concerns to Dishan-kala, have been constructed in 1910. During board Isfandiyar-khan, Matvafo Karvanboshi was minister of trade.
The winter house is located in the street name Kalanarova, to the north madrasah Bikazhan Bika. Matvafo Karvanboshi spent winter time in this two-storeyed house. In the summer he lived in the house which is located in the street N. Kurbo.
In 1920 - 1924 in holiday apartment Matvafo Karvanboshi the Embassy of RSFSR in Khoresm was placed. In other part of a holiday apartment in 1922 the pedagogical university first in Khiva for women has opened.
Now the house is borrowed with Youth association "Kamolot".
Authority:
«Khiva city and legends» the tourist guidebook across Khiva.