Ibragim Khodja madrasah.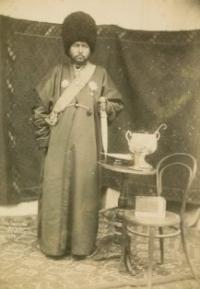 The Jeep-tours on the Khorezm province.
"Having driven people, I myself went ahead,
No one even heard my words.
I didn't have chain mail, horse lats and weapons
With me were only arrows and a quiver.
I will stop - all people will stop
It's as if the enemies killed them. "
Zahir ad-Din Mohammed Babur. "Babur-Nama."
Pilgrimage to Khorezm to holy places.
Ibragim Khodja madrasah it is constructed in 1888 of XIX century. It is located in territory of Khivan area, the Khorezm province. It is constructed Ibragim Khodja, the confidant of Khivan khan Muhammad of Rakhim-khan II.
A building madrasah one-storeyed, extended from the south on the north. It madrasah is less on the size, than madrasah Alla-Kuli-khan and Mukhammad than Rakhim-khan, it madrasah have in the property greater territory.
Authority:
 http: // www.pagetour.org