Kapal-Arasan health resort.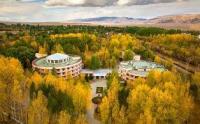 Health resort in Kazakhstan.
"The creation of a thousand forests is in one acorn"
Ralph Waldo Emerson.
Rest in health resort in Kazakhstan.
Kapal-Arasan the balneological resort, is located on northern slopes of the Dzungarskiy Ala-Tau, in 1,5 kilometers to the east from the river Biyen. From the city of Taldykorgan the sanatorium of Kapal-Arasan is in 100 kilometers on the East, in the picturesque valley under Dzhunke name, in the northeast of the settlement of Arasan.
The resort Kapal-Arasan is a part of the Arasan rural district. From the settlement of Arasan to the settlement Kapal 20 kilometers of the asphalted road. To the South from the resort Kapal-Arasan the panorama of the Dzungarskiy Ala-Tau, wonderful on beauty, opens.
A mountain landscape, the clean air which is given to drink by aroma of herbs and flowers, the generous sun and curative hot springs of mineral water with the small content of radon. The resort is located at the height of 975 meters above sea level.
This first spa facility in Kazakhstan which was open in 1886 the XIXth century. The average temperature of January is – 10C, of July + 20C. The atmospheric precipitation to 350mm per year. About 2830 hours of sunshining per year.
The main medicinal factors are: chlorid-sulphate, sodium water (29 - 44C) which contains nitrogen and silicon acid used for bath and shower. The health resort Kapal-Arasan was founded on a base of the same named mineral springs.
This resort is located in the heart of park where many poplars and karagaches grow. There is a magnificent viewing of the snowy crests and peaks of Dzungarskiy Ala-Tau from the territory of resort. Kapal-Arasan mineral springs belong to weakly radioactive and weakly sulphate-chlorid-natrium thermos.
The temperature of the majority of springs 35 - 37C. By the water characteristic temperature and radioactivity these springs are similar to Tzkhaltubo springs. These springs have medicinal characteristics for people who suffer from: rheumatism, metabolism, peripheral systems and blood vessels, gynecology diseases and who suffer from copper and lead poisonings.
Kapal mineral springs are located in 8km south of the Kapal village of Almaty oblast in valley of the Zhelsai river, which flows into the Malaya Kapalka river. These springs belong to the group of "siliceous thermos".
Its consumption of the water is from 8 to 43m/s. The waters of the springs have some smell of hydrogen sulfide; and the temperature is 25 - 28'C, the water miniralization is 0,34 - 0,4g/l.
Authority:
"Zhetysu is the Land of  tourism". A Tourist Guide-book. Almaty.  2003. 68 p. and the material for this page is taken from the printed edition."Guide to Kazakhstan"