Katon-Karagai paradise.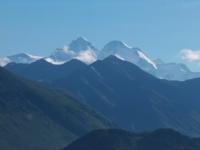 Golden tour on Kazakhstan Altay.
"Everything in excess is opposed to nature" 
Hippocrates.
Discovery and adventure tour to Kazakhstan.
The district of Katon-Karagai is a rare pearl located in Eastern Kazakhstan. People who are lucky enough to have been born in this magical place call it The Turk's Cradle or Heaven's Corner. The older generation considers their native land the capital of Kazakhstan's Altai Mountains.
Kazakh singers like saying that this mountainous and forested area is full of divine grace. It is often compared to a spring of living water - an elixir that heals wounds, makes one strong and keeps one youthful.
Located in the heart of the Altai Mountains between two lakes is the famous Rakhamnov Springs.
The highest, most mysterious Altai peak is the legendary Belukha Mountain (4506 metres above sea level) which towers above the Promised Land. Mystics and artists such as Nikolas Roerich call it a place of power and local shamans believe this is the Hub of the Universe linked to space.
According to myths, the mysterious Shambala is hidden here. There is also a cascade of impressive waterfalls - including Arasan, Rakhamnov and the largest, Kokkol, with a height of 80 metres and a width of 10 metres. The local mountain slopes contain salt and other mineral resources.
Where else in Kazakhstan can you find the unique combination of cedars of the Altai forest, glades of berries, snowy mountains and crystal lakes? The local unspoilt natural beauty attracts tourists from all over the world.
The shores of Alpine Yazevoye Lake are a popular setting for lovers sung about in folk songs. The turbulent rivers of Irtysh, Bukhtarma and Naryn offer opportunities for exhilarating recreation.
From the Gold braanch to the Tsar valley in Katon-Karagai natural park.
Katon-Karagai is proud of its history. The trade routes of the northern branch of the Silk Road passed along the border of Kazakhstan, Mongolia, China and Russia. It was also called the Gold Branch, as caravans with Scythian gold and bronze from Altai travelled along it.
Regiments of Chinghiz-Khan and Tamerlan's invincible warriors, along with hordes of nomads, stormed along it from the Mongolian steppes and south Siberia to the west and farther. To this day archaeologists continue to find traces of ancient mining developments, irrigation channels, ruins of fortresses and Buddhist temples in this area.
The principle archaeological find in this area is the Berelsky burial grounds. The burial mound of a Saxon prince of the fourth century B.C. was found 1200 metres above sea level in the Bukhtarma Valley, or Tsar Valley. An open-air museum displaying scientific marvels is being established at this place as a cultural inheritance.
Today in this area the indigenous Kazakh nomads and settlements of the Orthodox Old Believers, fishermen, beekeepers and hunters all co-exist as peaceful neighbours. Bright Alpine carpets of flowers, healing herbs, multicoloured rocks, clean mountainous air filled with cedar aromas, mountain rivers, waterfalls and healing sources are all traits of this vivid area in eastern Kazakhstan.
It is rich with mountainous forests and rare flora and fauna. The area, which has been mainly untouched by civilization, still has wild brown bears and Altai maral, or elk. You can also see snow leopards, Asiatic wild dogs, foxes, badgers, wild goats, partridges and wood grouses on the forest paths.
Deer paark in Katon-Karagai natural park.
The Katon-Karagai State National and Natural Park is the largest protected area in the country and is included in the list of UNESCO World Heritage Sites. In 2003 the World Wildlife Fund awarded the Kazakhstan government a Gift to the Earth certificate for creating this area.
Katon-Karagai deer park and the state Bolshenarymsky Forest are open to tourists. These places are often visited by international ecological and cultural scientific expeditions. The parks offer guided hikes, horseback trails, and trips for hunting wild berries - barberries, shamrock currants, honeysuckle, blackberry, cowberries, strawberries and raspberries.
This area is also famous for its maral breeding and beekeeping farms. In the bee house you can see with your own eyes how Altai honey, one of the best honeys in the world, is produced as well as taste some of the sweet honey. You can also try bee sting therapy for yourself.
Nine maral breeding farms are located in the Alpine meadows with islands of fir, cedar and larch forests. The Orthodox Old Believers from Russia began maral breeding in Altai in the 18th century.
In addition to Altai, the only other countries in which such breeding is developed are New Zealand and Canada. The product for which the maral are bred is the antlers of young marals, which contain a valuable substance known as pantocrine.
This is a powerful biostimulant with beneficial effects on the body. The only pharmaceutical plant in Kazakhstan is located in nearby Beloye village. Here medicine is made from maral antlers, honey, herbs and roots.
This unique pharmaceutical plant also produces pantocrine spirits, Pantomedovyi and Belukha balsams, bee glue, hawthorn, motherwort herb, calendula liqueur, and fir oil from local, ecologically clean raw material.
Katon-Karagai holds the trademark for all of these natural remedies. In addition to these indigenous treatments, there are many other unique tourist treatments offered with kumiss (mare's milk), honey, antlers and Alpine herbal liqueurs.
The world famous health resort Rakhmanov's Springs has been in the district since 1924. This tourism project has only one shortcoming; there is little infrastructure, and the poor roads make it a difficult area to access.
The local government is planning to open new routes to the Berelsky excavations, Kokkol waterfall, Belukha Mountain, Yazevoye Lake and the Rakhmanov Springs. But the lack of roads can be an advantage for those preferring active ecotourism. Untrodden paths promise many discoveries! 
Getting there in Katon-Karagai natural park: You may reach Katon-Karagai via Ust-Kamenogorsk by Air Astana flights twice a day from Almaty as well as from Astana three times a week. For more information visit our website www.airastana.com or contact our Call Centre at +7 (727) 244 44 77.
Or you can travel by bus from Ust-Kamenogorsk station to Katon-Karagai (500 km) with daily departures at 8:10 or 11:00 (travel time is 9 hours) or by vehicles through arrangement with travel agents.
Authority:
Alzhan Kusainova. Magazine "Tengri" 2, 2010.
Photos
Alexander Petrov.