Kitaiskiy pass. Meridional ridge.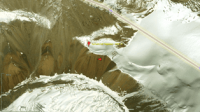 Passes of Meridional ridge.
"The way to the top is open to anyone
The height who loves fearlessly
Where the ice ax rings and where the heart rings
Friendship of the brave is born there!"
Nikolay Tikhonov.
Walk to passes in Bayankol gorge.
Kitaiskiy pass is located at an altitude of 4001 meters above sea level, located in the northern part of the Meridional ridge in the Narynkol district of the Almaty region. Kitaiskiy pass serves as the beginning of a comfortable ascent from the Vostochny Bayankol glacier to the crest of the ridge, followed by an ascent to the peaks of the Meridional and Sarydzhaz ranges.
The pass is located in an intermountain saddle between an elevation of 4451 meters above sea level in the north-west, 1.3 kilometers, and the Uzlovaya peak, 4910 meters above sea level, in the south-east, 3.2 kilometers.
The state border between the Republic of Kazakhstan and the Republic of Kitaiskiy passes through the pass, from the south-east to the north-west. The eastern slopes of the pass are in the Republic of China. The western slopes of the pass are talus and descend for 300 meters to the moraine of the Bayankol Vostochny glacier at an altitude of 3886 meters above sea level.
Geographic coordinates of the Kitaiskiy Pass: N42 ° 20'06.29 "E80 ° 15'07.75"
Authority:
Alexander Petrov.
Photos by
Sergei Mikhalkov, Almaty city.