Kolsay nature park.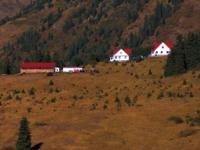 Tour Kolsay nature park Almaty.
"Our nature consists in motion; complete rest is death" 
Marcel Achard.
Private Guide tours Kazakhstan.
State national nature park «Kolsay lakes» it is formed by the Governmental order of Republic Kazakhstan № 88 from February, 7th, 2007. It is located in Raimbek and Talgar areas of Almaty area of Kazakhstan.
In territory of park are Kolsai lakes and Kaindy lake. The flora of national park totals more than 700 kinds. Here there are the plants, brought in the Red book - a feather grass Kungey, the adonis gold, the adonis Tien-Shan, zheltushnik orange, fur-tree Shrenka and others.
The fauna also is rich and various more than 200 kinds of vertebrate animals. Representatives of 4 kinds of fishes, 2 kinds of amphibious, 197 kinds of birds and 29 kinds of mammals Here live.
The birds brought in the Red book - a dark blue bird, a painted titmouse, a golden eagle, the bearded man, a falcon, kumai. From mammals live, arkhar, tien-shan a bear, a snow leopard, a Turkestani lynx, the Central Asian otter.
Kolsay lakes name a pearl Northern Tien-Shan. Three high-mountainous lakes with abrupt slopes are located in mountains of ridge Kungey Alatau. Lake Kolsay include three mountain lakes, located on height 1 880, 2 250 and 2 700 meters above sea level.
They are treasures of the nature. Two bottom lakes are surrounded by fur-trees, the Alpine meadows and mountain pastures. The top lake to be among rocks. A landscape wood, valleys between lakes and the slopes leading to pass, grassy.
Kolsay (the northern offshoot of the Kungei ridge i Alatau) is 330 km away from Almaty and features a cascad of three lakes, which is deservedly called the Pearl of the Northern Tien-Shan.
The Kolsay lakes are dark blue i color and are filled with pure glacial water. It is characterized by inimitable in its beauty Kolsai lakes, unique cascade of crystal-clear water basins, dense fir woodlands, picturesque subalpine meadows with thickets of yellow-orange globeflowers (Trollius) and magnificent edelweisses which stalks reach half-meter height, diverse world of birds, mammals and insects.
Local attraction of this territory is coast rainbow trout (Salmo gaidneri) acclimatized in lakes, and also foot routes through gorges and sky-high passes to Issyk-Kul Lake, the pearl of Tien-Shan, which became famous among the tourists of all over the world.
This national park - the youngest in Kazakhstan has already reached certain results in expansion of ecological tourism sphere, preservation of landscape and biological variety. The lakes impress everyone with their beauty - they are surrounded by the Alpine meadows, rocks and coniferous forests represented by the Tien-Shan fir tree.
All lakes are connected with each other by picturesque mountain paths. A motorway takes us to the first (Lower) lake. There is a comfortable tourist camping site and a hotel here. The distance from Almaty and the first Kolsay Lake is 330 km.
The Lower Lake is stretched out for 1 km along the gorge. It is 400 m wide and sits 1818 m above sea level. The lake's depth is 80 m. There are very com­fortable expensive cottages, budget accommodation, yurta camps and camping sites here.
When approach­ing the first lake, one can see the quay, where boats and catamarans are tied up. You do not have to row, as the park inspectors are expected to do it, except for catamarans.
You can see fishers standing here and there along the lake, angling for a rainbow trout. But you have to keep in mind that fishing is strictly prohib­ited. The same applies to swimming in the lake! It is the State National Natural Park, you know. However, this does not seem to stop people.
Though not everyone will be able to swim in the lake, as the tempera­ture is +6 -+8 °C, and it will definitely have a chilling effect on one's desire to swim here. The second (Middle or Mynzhylki) lake is the most beautiful one among all Kolsay lakes.
It sits at 2252 m, which is 5 km higher than the first. Trekking on foot will take 2,5 - 3 hours, though one may choose to get here on a horse. As per microbio­logical tests, the water in mountain rivers is crystal clear.
There is a valley in the lower part of the lake, which is suitable for camping. The lake is the num­ber of fallen fir trees, which form a natural dam. The Middle Lake is 50 meters deep. What catches the eye when one approaches keep walking, you understand that the lake has not revealed all its beauty just yet.
The green lakeshores are thickly covered with various Alpine flowers, among which the fragrant edelweiss grows. The third (Upper) lake is the smallest one and sits 6 km above the second one, right on the border of spruce forests and Alpine meadows.
The height drop between the Lower and Upper lakes constitutes 800 meters. The water in the lake is very cold. This area has a highland climate: jay temperature in summer is 30 °C, and night temperature - 5 - 10 °C.
The season starts in June and ends in September. The region has rich flora and fauna, and all the lakes have trout. There are plenty of mush­rooms, cherries, berries, etc. The Kolsay Lakes are a tourist destination.
There are comfortable! guesthouses and camping sites here. A 25 km tourist route has been elab­orated - it covers all three Kolsay Lakes, as well as the Sary-Bulak pass that leads to Lake Issyk-Kul.
A walk­ing tour takes 3 days, and a horse- tour - 1 day.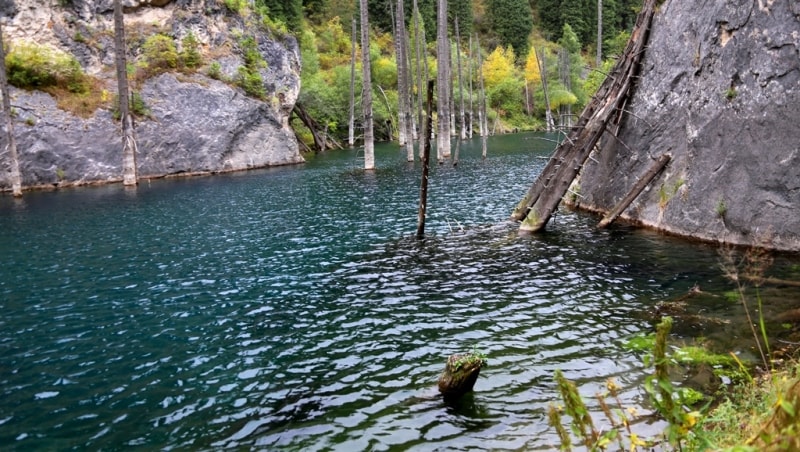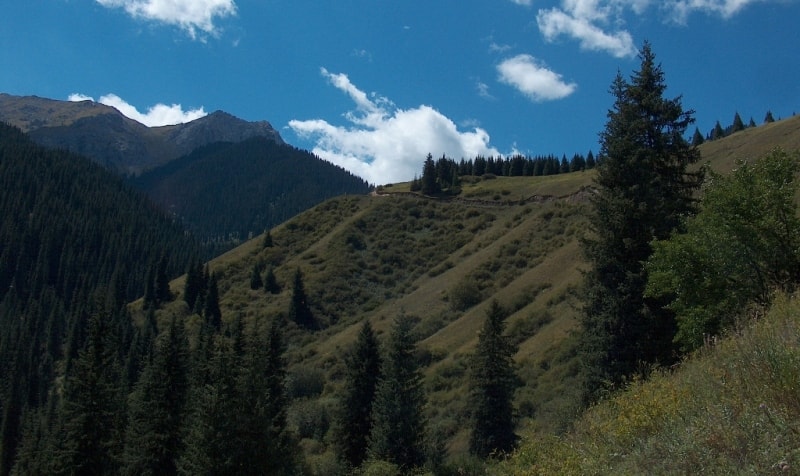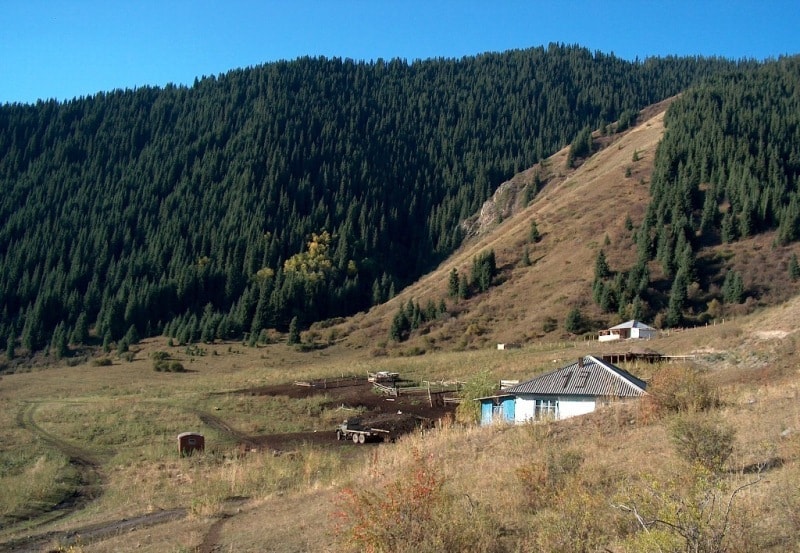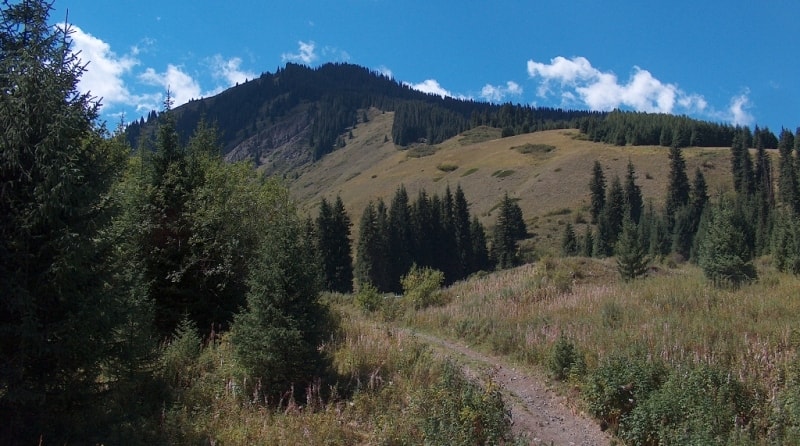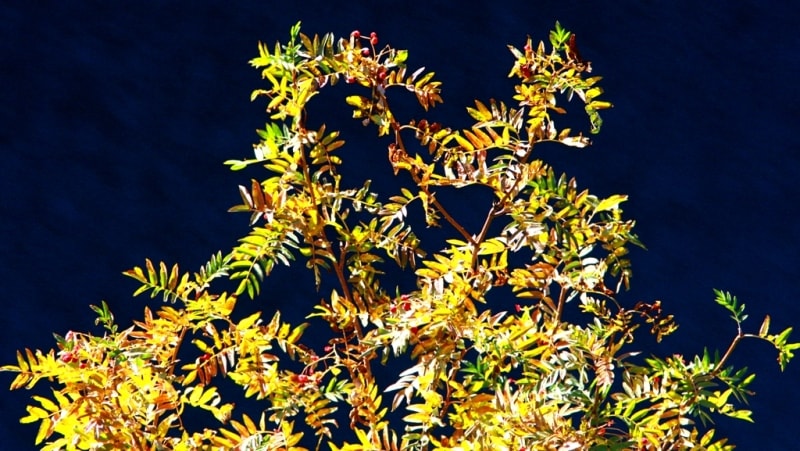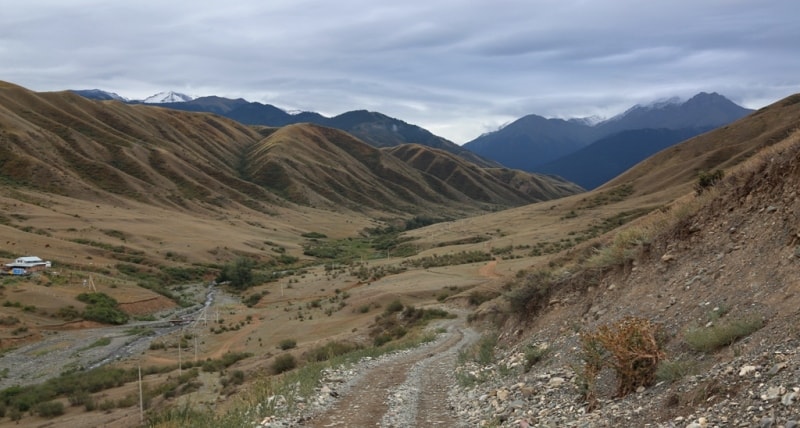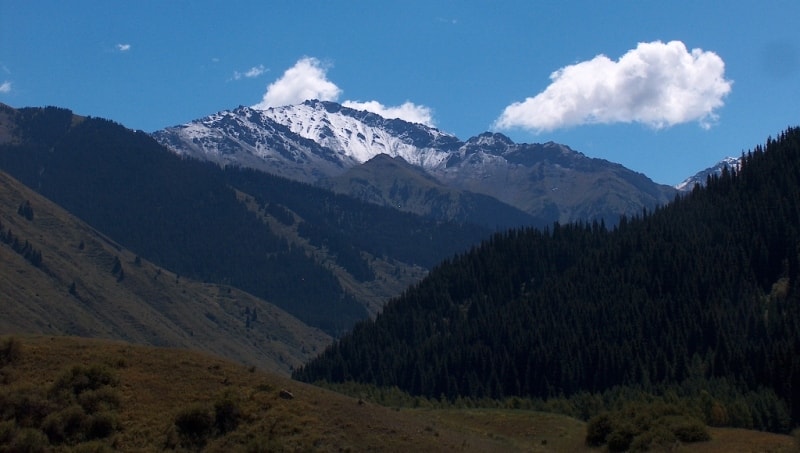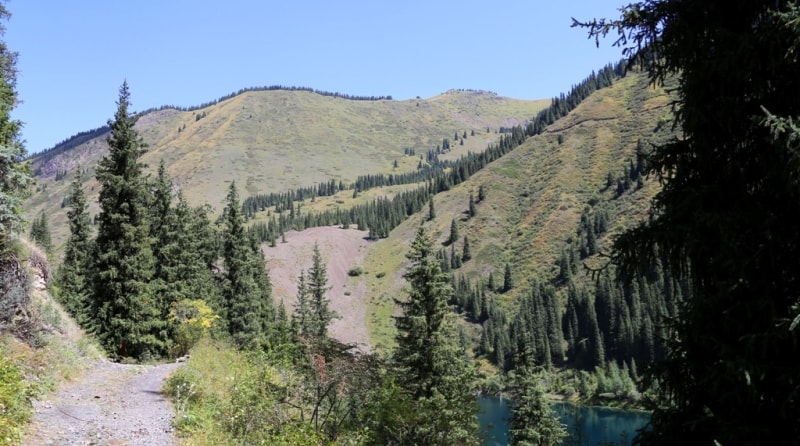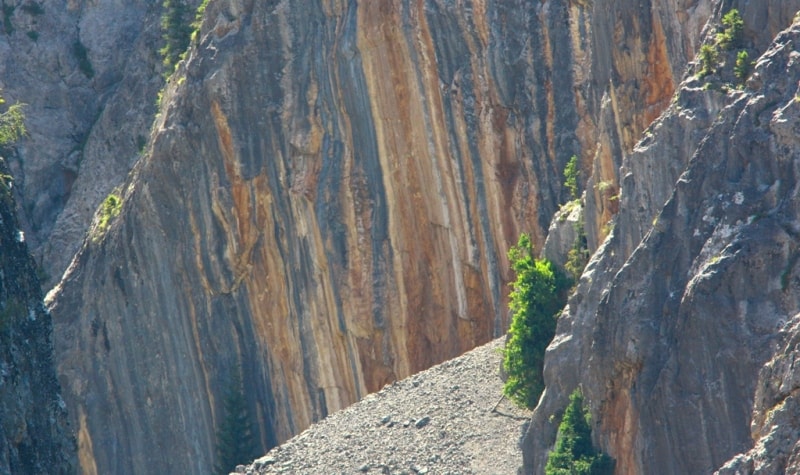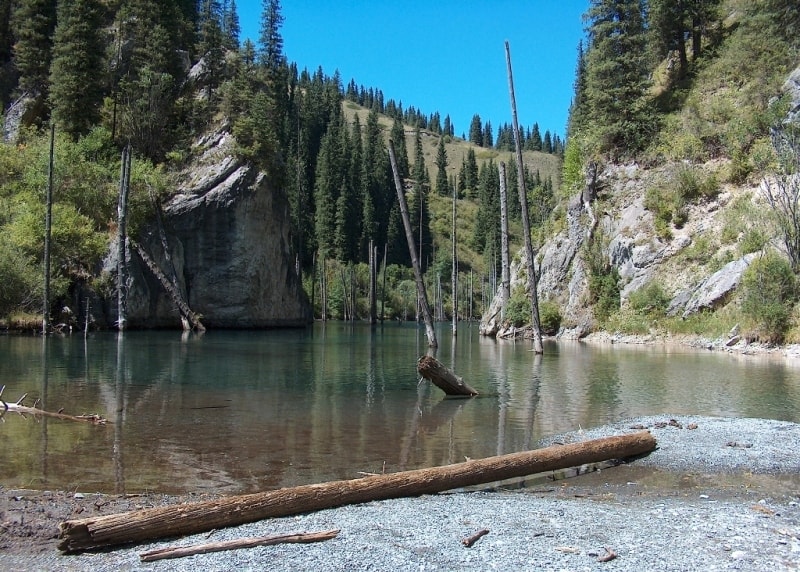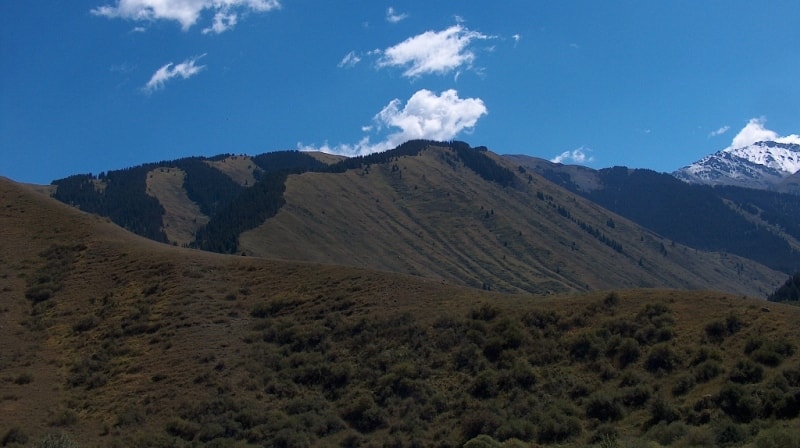 Authority:
From the advertising guidebook across Kazakhstan. The ministry of tourism of Kazakhstan. "Central Asia Mountains". 2009, Almaty,Publishing house "Mektep". Authos Aldar Gorbunov, Anna Ivachenko, Sharipa Bisarieva.
Photos
Alexander Petrov.