Kosh-Darvaza gate in Khiva.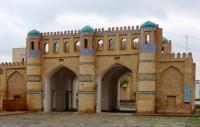 Tours over ancient monuments of architecture of Khiva.
"The cost of the monument is unnecessary; the memory of us will live if we deserve it with our lives "
Julius Frontin.
Trips from Kazakhstan to Khiva.
Northern gate Kosh-Darvaza in Dishan-Kala are constructed in 1912 the beginning of XX century on road to Urgench. The facade of a gate has three cylindrical towers, with two arch prodrivings between them and traditional gallery with a gear handrail.
Service rooms are located on both parties from draiving. The main facade of a gate is decorated by a mosaic on towers. Small domes of towers are issued by a blue tile.
The size of a gate under the plan: 25 х 17 meters, height: 9,45 meters.
Authority:
 http: // www.pagetour.org