Kosmodemyanskaya glacier.
Group individual tours Almaty.
"Nature encourages no looseness, pardons no errors"
Ralph Waldo Emerson.
Sightseeing tours in mountains Almaty.
Zoya Kosmodemyanskaya glacier is located in Zailiysky of Ala-Tau - it is a glacier which begins with the top of 4070 square kilometers of the same name. The glacier at the height of 3610 meters above sea level openly merges with Tuyuk-Su glacier.
It represents a narrow hollow at the bottom of which snow from northern and east slopes a penalty accumulates. Southern slope of a glacier open. Glacier wall high and steep. From the bottom the flat field an extent of 200 meters which is coming to an end with a steep slope begins.
Moraines on a glacier are developed poorly. The left side moraine reach Tuyuk-Su glacier where meets a frontal moraine of the glacier.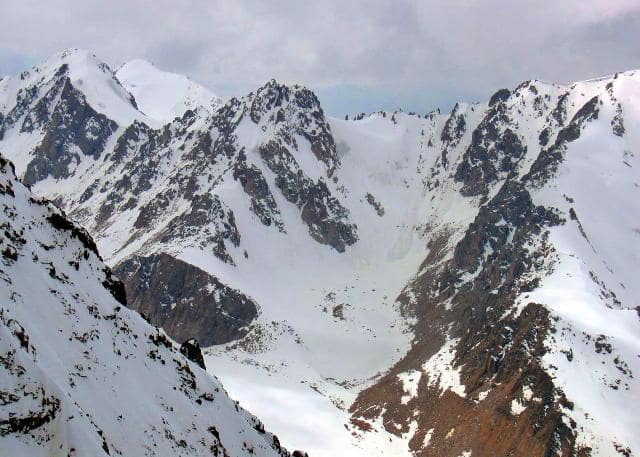 Authority:
Catalog of glaciers of the USSR. - Leningrad, 1967, t. 13, Tuyuksu glaciers (Northern Tien-Shan). L.: Gidrometeoizdat, 1984. Freezing of Tien Shan. Under the editorship of N. B. Dyurgerov. - M, 1995. Freezing of Zailiysky Ala-Tau. - M.: Science, 1969. Palgov N. N. Bolshealmatinsky freezing knot in the ridge of Zailiysky Ala-Tau.  
Photos
 Roman Stetsenko, Sergey Mikhalkov.