Kurgan-Tobe town.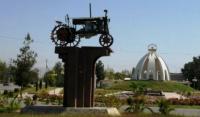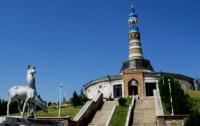 Walk on the Kurgan-Tobe.
Kurgan-Tobe the largest industrial and cultural centre of the Vakhsh valley - is situated 97 km to the south of Dushanbe. According to some sources, Qurghonteppa emerged in the VII century, although others think much later.
The city is situated in the upper part of the Vakhsh valley in the centre of a rich oasis. In the Middle Ages the area was known as Khuttai and the city itself as Levaqand or Vakhsh. This area was famous at that time for its marksmen and its special breed of sheep.
Al-lstakhri describes Khuttai in detail in his work "The book of the Ways of States". Munk (an area of present-day Khovaling), which was bigger than Hulbuk (more details on p.71), the capital of Khuttai, was considered the largest town in Khuttai.
Khelaverd and Levaqand were also large towns. Levaqand (Vakhsh) is also mentioned in the book Qanun al-Mas'udi (by the famous scholar Al-Biruni), which gives an extensive list of places with indications of their coordinates.
Information about the history of the town and region can be obtained in the Oblast Museum of History and Regional Studies which was opened in Kurghonteppa in 1983. Unique materials on the ethnography and culture of this area are displayed in the museum.
Near Kurghonteppa, on the banks of the Vakhsh River, there is an interesting historical site - the ruins of the ancient town of Lagman (X - XIII centuries). In the 1940s archaeologists examined it and found pipes from an ancient water supply system, brick wells, and six-meter fortress walls with towers.
This town was one of the ancient Bactrian settlements and occupied quite a large area for that era - 43 hectares. Twelve kilometres east of Qurghonteppa is Ajina-teppa hill. Nowadays Qurghonteppa is one of the largest cities in the country and the administrative centre of Khatlon region.
There are several large industrial plants (a transformer plant, fruit and vegetable processing and dairy factories). Agricultural production in the region centres on the growing and initial processing of cotton, citrus plants, horticulture, animal husbandry and cotton-thread manufacturing.
There is a Pedagogical University, and agricultural energy, medical and teacher-training colleges. Qurghonteppa bazaar is located in the town centre and it has rich and abundant fruit and vegetables.
The multi-storied Qurghonteppa Hotel is located 50m from it. The Asia Hotel was opened not long ago and is about 200m from the bazaar. The airport is located not far from the town and has regular flights to Khujand and Almaty.
A railway station started operating here recently too. Qurghonteppa is connected to Dushanbe by a good paved road. Between the cities there is a regular bus service and numerous taxis. 
Authorship:
Javad Abed Khorasani. http://www.asraresokhan.com