Kurinysh Khana in Bukhara.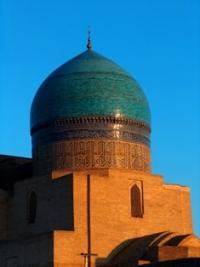 Sanatorium-resort vacation in Uzbekistan.
"History likes to repeat"
Thucydides, ancient greek historian.
Hideaway in Uzbekistan.
The oldest of the surviving buildings of the Arch - Kurinish Khana. It is a vast courtyard, intended for receptions and coronations. It is paved with stone and is surrounded by a gallery on wooden columns.
Opposite the entrance was placed the throne of the ruler on four carved pillars of Nurata marble, the bases of which depict lions. In 1910, the last Bukharan Amir Alim Khan was crowned here.
The flooded chamber on the right side was the treasury, and behind it was a harem.
The roof of the building collapsed during the bombing of the Red Army in 1920.
Enlightener:
VG Saakov "History of Bukhara". Shark Publishing House, 1996. "Bukhara. Masterpieces of Central Asia. Historical guide to Bukhara. year 2012. "Bukhoro Bukhara Bukhara" In Uzbek, English and Russian. Publishing House "Uzbekistan", Tashkent 2000. Muhammad Narshahi. History of Bukhara. Tashkent. 1897 (translated by N. Lykoshin). V.G. Saakov Architectural masterpieces of Bukhara. Bukhara regional society "Kitabhon" Uz SSR, Rovno 1991, Robert Almeyev. The history of ancient Bukhara. (Edited by Academician of the Academy of Sciences of the Republic of Uzbekistan Rtveladze E.V.)