Lake Beloye in Fany Mountains.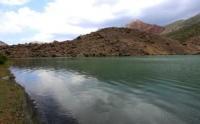 Walks on nature Tajikistan.
"Again the mountain winds dry us,
They blow the longing out of the soul.
We sell immortal souls
For one revelation of the heights.
We are all in a hurry to that turn
Where fire burns for no reason
So lock the Wolf Gate
And put the keys in the pawnshop"
Yuri Vizbor. 1961.
Best natural places in Tajikistan.
The flowing, fresh lake Beloye is located at an altitude of 2474 meters above sea level is located in the upper part of the Ziorat river valley, on the northern slope of the Gissar ridge, in the western part of the Goukhona mountains, 1.3 kilometers to the south and slightly east of the Artuch alpine camp in the Penjikent region of the Sughd region.
The length of Lake Beloye is 131 meters from southwest to northeast, the largest width of the lake reaches 86 meters. The perimeter of the lake is 296 meters, the area of ​​the lake is 5439 square meters. Climbing from Lake Chukurak along the path to the left, you can go to a small lake Beloye, the shores of which, as the water decreases, are covered with a white coating of salt.
This lake, fed by a stream from the upper reaches of the Chukurak pass, acquires the character of a non-flowing one. In it, aquatic bog vegetation develops densely. Wide leaves of water lilies spread out on the surface of the water.
The water is very warm, with a swampy flavor, and loses its ability to play with bright colors. From here, the trail leads south to Lake Ziroat. The southern and eastern shores of the lake are densely covered with juniper forests.
Geographic coordinates of Lake Beloye: N39 ° 15'43.32 "E68 ° 08'16.73"
Authority:
Alexander Petrov.
"Fan Mountains and Yagnob". N.V. Paganuzzi. 1968. Moscow. Physical Culture Publishing House and Sports.
Photos by
Alexander Petrov.