Lake Dyushaha among Kulikolon lakes.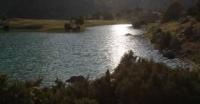 Sights of Kulikolon lakes.
"My heart lies on a difficult path,
Where the ridge is high, where are the crimson rocks,
My heart lies, does not want to leave, -
He sends me a signal on a small walkie-talkie 
Yuri Vizbor. "Fan Mountains".
Travel to Kulikolon lakes.
The fresh, flowing lake Dyushakha is located at an altitude of 2980 meters above sea level in the intermountain Kulikalon depression, east of the Govkhon mountains, northeast of the Saryob mountains, in the southern part of the Chimtarga valley, in the Artuch river valley, 6.5 kilometers to the south-east from the Artuch alpine camp in the Fany Mountains, in the northern part of the Gissar ridge in the Penjikent region of the Sughd region.
The length of the lake from west to east is 621 meters, the maximum width is 231 meters. The perimeter of Lake Dyushakha is 2008 meters, the area is 125,585 square meters. The lake is of a dammed type, in the northern part there is a moraine, which serves as a dam.
During dry periods, an isthmus forms in the northern part, which divides the lake into two lakes into the southern and northern ones; during periods of abundant flow, one large lake is formed. In the southeastern part, the headwaters of the Artuch River flow into the lake.
2.6 kilometers to the south are the peaks of the Kulikalon Wall 4759.1 meters above sea level, Maria 4790 meters above sea level, Mirali 5106.1 meters above sea level.
Geographic coordinates of Lake Dyushakha: N39 ° 14'23.23 "E68 ° 11'58.06"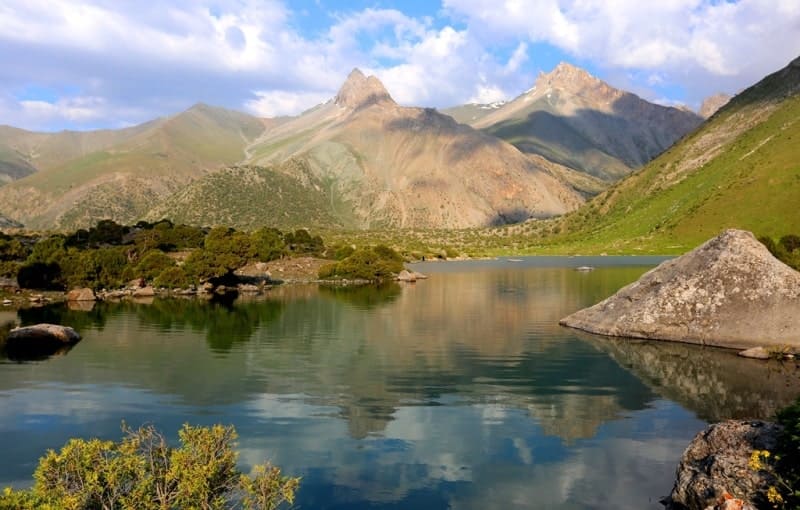 Authority and photos
Alexander Petrov.