The lake Kuzdakary on Zhygylgan.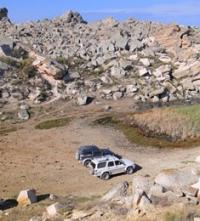 Group tours to Zhygylgan depression.
"The world is a book and those who do not travel read only one page" 
Augustine of Hippo.
Sights of the depression of Zhygylgan.
Kuzdakary Lake is located in the western part of the Tupkaragan Peninsula 2.2 kilometers southeast of Cape Zhygylgan in the Tupkaragan district of Mangistau Oblast.
The lake is located at an altitude of 5.3 meters above sea level and connects via underground channels to the Caspian Sea, the closest distance from the coast of the Caspian to the lake is 720 meters.
The length of the lake from north to south is 87 meters; the width from east to west is 54 meters.
The distance from the descent from the chink to the dip and further to the lake is two kilometers along a well-found path. In the western part of the lake there is a small elongated pond of the meridional direction, which is filled in the spring and dries in June.
The water in the lake is bitterly saline, not suitable for drinking. In the south of the lake is a unique natural attraction of Mangyshlak - the Zhygylgan failure, a kilometer south of Lake Kuzdakary there are stone blocks with traces of prehistoric animals.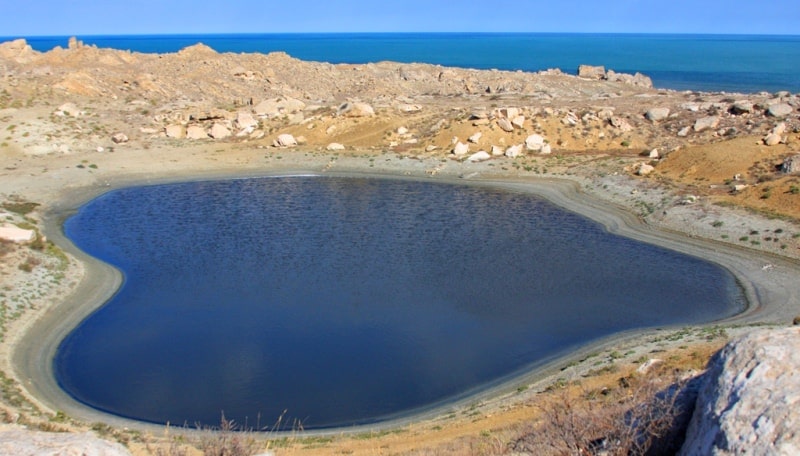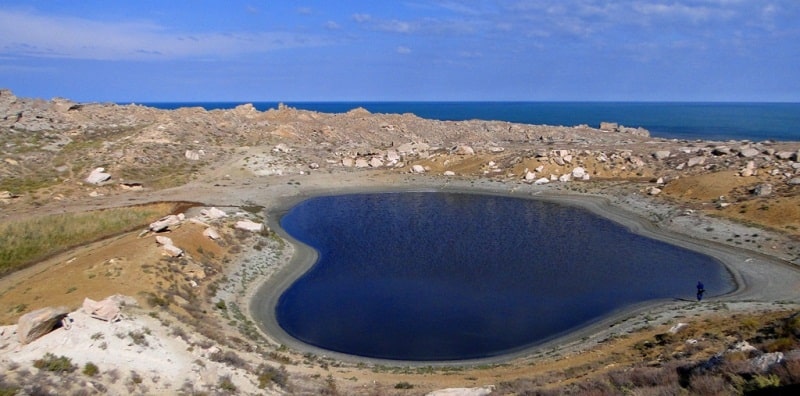 Authority and photos
Alexander Petrov.