Lake Western Dzhashyl-Kel.
Tours on lakes of Arabel valley.
"The expedition is a school in which the process of learning about nature, people's experience, people's wisdom is endless. Travel expands the motley fan of human knowledge"
Murzaev E. M.
Lakes of Arabel valley.
The flowing, fresh lake Western Dzhashyl-Kel is located at an altitude of 3779.1 meters above sea level, located 2.8 kilometers southeast of the Barskoon pass on the southern slope of the Terskey Ala-Too ridge in the Jety-Oguz district of the Issyk-Kul region.
A full-flowing stream flows from the Barskoon pass into the Barskoon lake, which then flows from the north-west into the Western Dzhashyl-Kel lake after 1.2 kilometers. The Arabel-Su River, 41 kilometers long, flows out of the Western Dzhashyl-Kel Lake, which is one of the rivers of the headwaters of the Naryn River.
The length of the lake from southeast to northwest is 780 meters, the largest width in the central part of the lake is 360 meters. The main filling of the lake comes from the river, which comes from Lake Barskoon located at an altitude of 3750 meters above sea level, also from a glacier located on the northeastern slope of a mountain spur to the southwest of the lake.
The length of a small nameless glacier is 600 meters, the area is 0.2 and the perimeter is 2.07 kilometers. The lake is separated by a 200-meter swampy jumper from the neighboring lake Central Dzhashyl-Kel, located at an altitude of 3779.1 meters above sea level.
From the Western Dzhashyl-Kel lake to the south and southeast there is the Arabel valley with numerous syrt lakes. To the north-east of the lake, 540 meters, there is a road connecting the syrts of the Inner Tien-Shan with the Issyk-Kul valley, and a high-voltage power line.
By road A 364 you can get to the Kumtor mine, the Karasai border outpost, the Uchkoshkon deposit, and through the Ashu-Suu pass you can get to the Uzengegush river valley. At 8.6 kilometers to the south-west of the pass is the dominant mountain Chymchyk with a height of 4467.2 meters above sea level.
Geographical coordinates of Lake West Dzhashyl-Kel: N41°52'41.84" E77°43'03.01"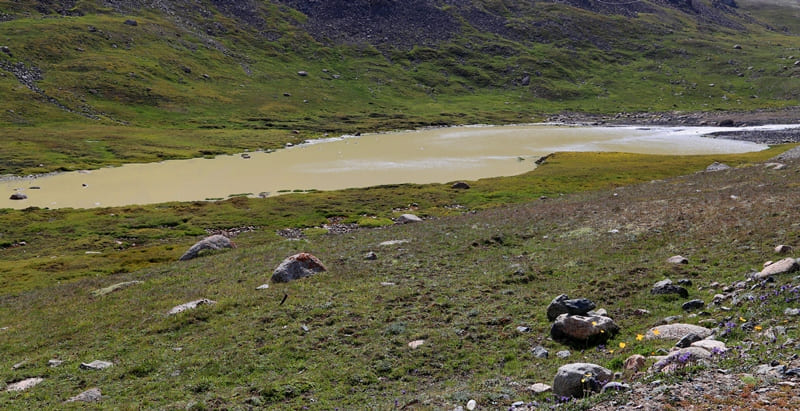 Authority and photos by
Alexander Petrov.