Legend about Abat-Baitak.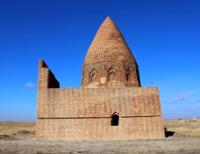 Legends of Kazakhstan.
«Now he a legend, and wished to be the person»
John Fitzgerald Kennedi.
There are some legends connected with the name of mausoleum Abat-Baitak. After battle with Abat-batyr Kalmyks did not attack any more Kazakhs. The most widespread legend is that in which it is spoken that that the son of known Kazakh philosopher-utopian Asan-kaigy – batyr Abat here is buried.
On a legend, he protected the native grounds from Kalmyks, and has managed in fair struggle to overcome Kalmyk khan. As a result Abat could return to the relatives a part grasped during attacks by Kalmyks of the grounds.
Speak still, that after battle with Abat-batyr Kalmyks did not dare to attack Kazakhs any more. In the same legend it is spoken, that after death батыра on a place of its destruction the population has constructed the mausoleum for three days.
Therefore to the name "Abat" it was added and "Baitak", that means "national". It happens during a wedding procession when the groom has fallen from a camel. The Population, for short term has constructed this magnificent monument, "All world", from here the second part of the name – Abat-Baitak.
Aurhority:
http://e-history.kz, www.madenimura.kz, R.Beknazarov (Kazakhstan), Zhuanyash Baigurinov (area Kobda, the Aktyubinsk province).
Photos
 Alexander Petrov.