The legend of Asan Kaigy.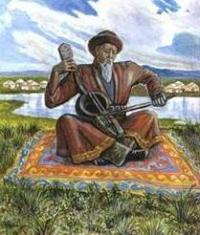 Tourist travels in Kazakhstan.
"I haven't finished revisiting Sleeping Beauty. As a faerie tale, that one is rife with inherent difficulties. After all, the world doesn't stop just because one person is asleep" 
 Anna Sheehan, A Long, Long Sleep.
Tourist attractions of Bayanaul.
There are many legends about Asan-kaigi - as a poet and philosopher, as a tireless traveler who was looking for the promised land (Jer Uyuk). He rode as if on a one-humped camel and died on the road, in the Ulytau mountains, at the age of one hundred.
I traveled around the world of Asan-kaigi in search of my beloved. And the last place of his travels was the Bayan Mountains.
The young man's name was just Asan. He was an ordinary shepherd in the mountains of Bayanaul. But one thing distinguished him from other young men - the guy often saw prophetic dreams. And once Asan fell asleep on a hill and imagines that he is standing near his flock, suddenly an old man comes up, puts his hand on his shoulder.
- Listen, horseman, leave the shepherd's business. This is not for you.
The owner will give you for the faithful service of the horse, and you go to the lake near the distant southern mountains.
Three peri sisters live there. Sisters will fly to the lake in the form of swans to swim.
On the shore you will see three beauties. The first thing is that they put the clothes together - married, and separately from them - a girl, your bride.
You hide, and as soon as the sisters enter the water, take the girl's clothes and give them away only after she agrees to become your wife.
So Asan did. He returned to his native Bayantau with his wife, a beautiful peri. They live happily, do not get enough of each other. But not without reason they say: "The shaitan is envious and dirty, where fun - he tries to bring grief, where friendship - sows discord."
Asan saw how his wife was conversing sincerely with a beautiful young dzhigit, and thought he was evil. Peri recognized his jealous thoughts and decided: "If you don't have confidence, then you shouldn't live together again."
She kissed her husband for the last time and disappeared. There were no horses nearby, only a one-humped camel grazed. Asan went on it in search of his beloved. It was painful to look at a lonely, heartbroken traveler. Seeing him, people repeated:
"Asan-kaigi, Asan-kaigi" (sad, longing Asan).
The odes went. There is no place on earth wherever he goes in search of a beauty. Deep old man returned to his native Bayantau. He climbed a small ledge on a rocky ledge along a small valley near Lake Jasyby, sighed wearily and said:
- Would turn into a rock and forever look into the blue waves of the lake: would my swan, my beauty, appear on it.
Peri fulfilled his last wish. The sad, current Asan became a stone statue in a stone valley near Lake Dzhasyby.
Sometimes in this valley, north of the Bayanaul camp site, groups of tourists pass. There are beautiful girls and women among them, but I still haven't seen my beautiful Asan-kaigi. That is the legend. But Asan-kaigi was a real person and created many poems about the grief and calamities of the oppressed people.
Authority:
Priymak D.P. "Bayanaul reserved" Alma-Ata, Kazakhstan, 1982.