Lower lake Karasai.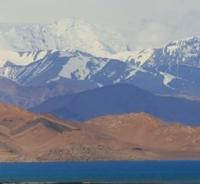 Ecological tours in Kungey Alatau mountains.
"But why change the processes of nature? There may be a deeper philosophy, which we never dreamed of - a philosophy that reveals the secrets of nature, but does not change its course by penetrating into it."
 Edward Bulwer-Lytton.
Moraine lakes Kungey Alatau.
The lower moraine lake Karasai is located at an altitude of 3376 meters above sea level, located on the northern slope of the Kungey Alatau ridge on the territory of the Kolsai Kolderi natural park, in the Kegen district of the Almaty region.
The flowing Lower Lake Karasai, with a length from the south-east to the north-west of 546 meters and the greatest width in the southern part - 308 meters. The perimeter of the lake is 1505 meters, the area of ​​the lake is 108111 square meters.
Only 216 meters in the southeast is the Upper Lake Karasai, thus the lakes at the headwaters of the Karasai River follow a cascade. North of the main ridge of the Kungey Alatau, 1.2 kilometers south of the Lower Karasai Lake, there is the Karasai glacier, 3 kilometers long from east to west and 1.5 kilometers from north to south with an area of ​​3.81 square kilometers. The cascade of lakes and the Karasai River are fed from this glacier.
In 2.6 kilometers to the north-east of the lake in the main ridge of the Kungey Alatau ridge there is the Burgan-Suu pass with a height of 3755.5 meters above sea level.
Geographic coordinates of the Lower Karasai Lake: N42 ° 55'51.61 "E77 ° 45'03.79"
Authority and photos by
Alexander Petrov.