Madrasah Arab Muhammad-khan.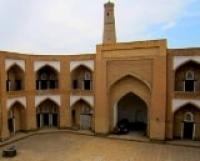 Cultural-entertaining tours in Khiva.
"The mighty sovereigns, surrounded by kings with pomp and splendor, all girded their loins with a belt of executing Hajji orders and slipped into the ears of the ring of diligent obedience to him, and despite the royal crown and royal belt, perpetrated by his servants, he deprived them of their kingdom, wealth, even welfare and life, and the punished served as an example to the world. By perfecting the power to subjugate the will of the people and the power of holiness outwardly and spiritually, he kept the people in subjection to themselves..."
Holidays tour in Khiva.
The madrasah is located to the West from madrasah Mahomed - Amin - Inaq. Originally there was a small madrasah of frame type constructed there by the famous Khivan woman. Arab Mohamed Khan bought this madrasah from her together with adjacent lands and in 1616 constructed new one-storeyed madrasah of a brick, to honor the fact that Khiva became the capital of Khorezm instead of Kunya-Urgench.
In 1838, when the building became shabby, during the reign of Allah Quli Khan, it was rebuilt in accordance with the standards typical for late Khivan madrasahs. At the moment it is a symmetrical two-storeyed building with a strong portal and cylindrical towers at the corners.
Authority:
http://visitkhorezm.uz