Madrassah of Bibi-Khanym.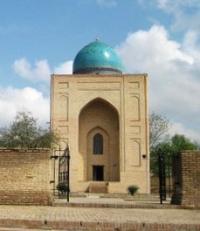 Cultural the express-tour over cities of Uzbekistan.
"I've known rivers:
I've known rivers ancient as the world and older than the flow of human blood in human veins. My soul has grown deep like the rivers" 
Langston Hughes.
Cultural walking excursion in Samarkand.
Until the mid-thirteenth century opposite the Cathedral mosque Bibi-Khanym mosque was a large madrasah so-called Bibi-Khanum. Initially, the portal of the madrasa was so large that it competed with the Cathedral mosque portal.
But it was Amir Temur angry and he ordered to rebuild it . The madrasah was destroyed and rebuilt a new. During the invasion of Nadir Shah madrasa was destroyed. On the Central axis of the madrasah is a mausoleum became the burial place of the mother, Saray Mulik khanim and two more women of her kind.
This is a high octahedral structure with a cylindrical drum, surrounded by a large Kufic inscription. The interior is decorated with mosaic panels and frescoes, which, along with the ornaments used landscape Paradise.
Authority
A.V. Arapov.