Main flag of Turkmenistan.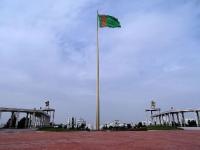 Visit to Ashgabad.
Main flag of Turkmenistan (turkm. Türkmenistan Ba ş Baydagy) is as of August, 2015 freely standing flagstaff, the 5th on height, in the world. Has 133 meters in height. There is in Ashgabat, on crossing of prospectuses Gayorashsyzlyk and Archabil, was established on June 26, 2008.
The weight of national flag of Turkmenistan which flutters on this flagstaff makes 420 kilograms. The flag sizes - 52,5 by 35 meters. At a flagstaff the guard of honor is exposed. The flagstaff 130 meters high, comparable by the size, with a flag of 60 by 30 meters is available in the Jordanian city of Aqaba.
The project was developed by Polimeks construction company and constructed as a gift from the management and builders of the Turkish company. On June 29, 2008 in Ashgabat the ceremonial opening on the square in front of the State museum of Turkmenistan on which the Main colors of Turkmenistan were hoisted was held.
The flagstaff from the moment of installation till September 1, 2010 when in Baku opened a 162-meter flagstaff, was the highest in the world and was included in the Guinness Book of Records.
To testify a record to Ashgabat there arrived the vice-president of the World Guinness Book of Records Greyg Glenday.
Authority:
On materials of information department of the State committee of Turkmenistan on tourism and sport.