Mausoleum of 808 on Shakhi-i-Zinda.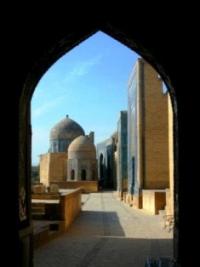 Excursions to the necropolis of Shakhi-i-Zinda.
"And at nineteen all seventy initiations were sung.
And the chants cleared my inner palace.
 And wherever I was, my ancestor Khidr was there,
 He was merciful, gave the wine, I am saturated now"
Hikmet Khoja Ahmed Yassawi.
Burial complex Shakhi-i-Zinda.
On the left side of the Khoja Ahmad mausoleum is the mausoleum of the year 808 (1405 - 1406). It is decorated with a tiled mosaic of fine workmanship. In the 1920s, the mosaic of the facing was fortified, the outer dome and its upper flooring were repaired.
Under the arch separating the courtyard from the main corridor, on the right side there is a double door of elm, covered with beautiful carvings with inlay, referring to the year 801 AH (1398 - 1399). The door leads to a large mosque, where archaeological work is carried out.
The architectural ensemble of Shakhi-i Zinda, consisting of a number of mosques and mausoleums, is a real museum of glazed scenery of the XIV-XV centuries. Here there are irrigated carved terracotta, and painted majolica, and beautiful patterns of mosaic tiles, and large mosaics of irrigated bricks.
In terms of subtlety, elegance and variety of forms, not a single architectural monument of Samarkand can match the mausoleums of Shakhi-i-Zinda.
Enlightener:
G.A. Pugachenkova.
Photos by
Alexander Petrov.