Mausoleum of Abu Mansur Matridi.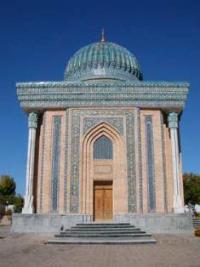 Photo tours of the Fergana Valley.
"Purring our eyes
To the paleting East,
Children of sorrow, children of the night,
We are waiting for our Prophet to come"
D.S. Merezhkovsky.
A trip from Tashkent to Andijan.
Mausoleum of Abu Mansur Matridi - located in Samarkand, located east of the famous Registan Square. The mausoleum was erected over the tomb of Abu Mansur al-Maturidi (870-944), a well-known Islamic theologian, expert of fiqh (Muslim jurisprudence) and an interpreter of the Koran (mufassir).
The scientist was buried in the Samarkand cemetery of Chokardiz, where, according to legend, more than 3,000 scholars and theologians were buried. A mausoleum, destroyed in the 1930s, was built over the grave. The mausoleum, erected in 1930, was destroyed.
Abu Mansur al-Maturidi was born in the city of Maturid, near Samarkand, and studied religious subjects here. Subsequently taught fiqh and kalam. Maturidi believed that man has freedom of choice and that faith lies in the verbal confession of Allah, and not in religious rites.
In 2000, on the occasion of the 1130th anniversary of the birth of Muhammad Abu Mansur al-Matridia, an architectural complex was built in the center of the mausoleum of the scientist on the site of the destroyed mausoleum designed by architects R. Salakhutdinov and E. Nurullayev.
The decoration of the interiors was done by A. Najmiddinov, and the exterior decor was done by H. Asadov. Dimensions of the mausoleum - 12 × 12 × 17.5 meters. The building is crowned with a double dome, the outer one is ribbed, decorated with blue majolica, the drum is decorated with 24 arches. The sayings of the scholar are carved on the white marble gravestone, and one can read the sayings of Imam al Matrudy.
To the west of the mausoleum there is a low building with a dome, on the north side is an elevation (sufa) with tombstones of the 9th - 18th centuries, and in the garden there is a gazebo rotunda with the grave of legal scholar Burhaneddin Al-Margiloni.
Having great knowledge in the field of theology, Imam al Maturidi was known and deeply revered not only among his many students, but also in the scientific world of the Muslim East.
Authority:
Alexey Arapov. Samarkand. Masterpieces of Central Asia. Tashkent, Sanat. 2004.