Rukhabad mausoleum.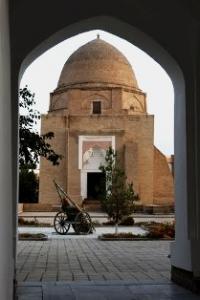 The combined tours over the countries of the Central Asia.
"The distance of time's separation brings us remnants of memories so ancient that most are lost in the mists of illusion…" 
A.J. Vosse.
Seven Wonders of architectural monuments of Uzbekistan.
In the 1230s, the Arabian traveler Ibn Battuta acquainted with the Central Asian sheikh from "suhrawardiyyah", Burkhan ad-Din Sagardji in India. Once sheikh Burkhan ad-Din Sagardji propagated Islam in Eastern Turkistan.
Later, in 1345 - 1346, Ibn Battuta again met the sheikh in China, in the capital of the Mongolian khan, Togon-Temur. There, in Peking, sheikh Sagardji was recognized as "a chief of Muslims".
The sheikh died in China and his son Abu Sa'id transported the body to Samarkand and buried beside mazar of Nur ad-Din Basir. Abu Sa'id Sagardji had stayed in Samarkand, married the daughter of Samarkand sheikh al-islam and occupied a place among the most esteemed religious figures at Amir Temur's court.
Amir Temur caused to erect a mausoleum above the tomb of sheikh Burkhan ad-Din Sagardji. This is laconic brick one-dome structure, known as Ruhabad mausoleum – "House of Spirit".
The mausoleums of sheikh Nur ad-Din Basir, Ruhabad and Gur-Emir are located on the same axis, what emphasized spiritual affinity of the Temurids and highly respected Sufi sheikhs.
The front facade of Ruhabad is accented by arch entrances in a frame of carved enameled terracotta plates. Later, beside sheikh Burkhan ad-Din were buried his sons, sheikh Abu Sa'id and Shaikhzod Isom ad-Din.
The legend says that the other members of Sagardji family, in particular, "Chinese princess", a wife of sheikh Burkhan ad-Din are buried also in the mausoleum. According to the legend, under the dome there is a copper box with seven hairs of Prophet Muhammad.
Ruhabad mausoleum adjoins the summer mosque, which decoration bears traces of Eastern-Turkistan or Chinese traditions. The small minaret added the complex at the end the XIX - beginning of XX c.c.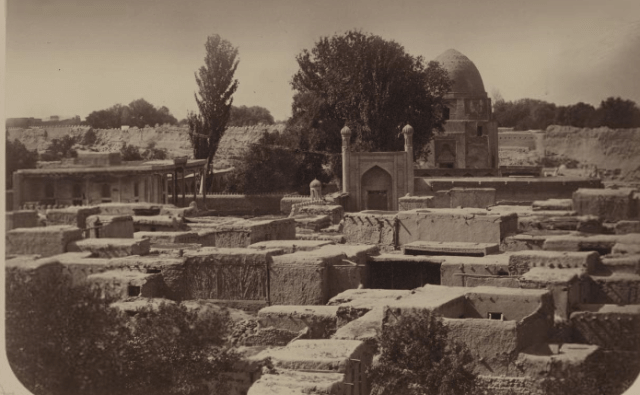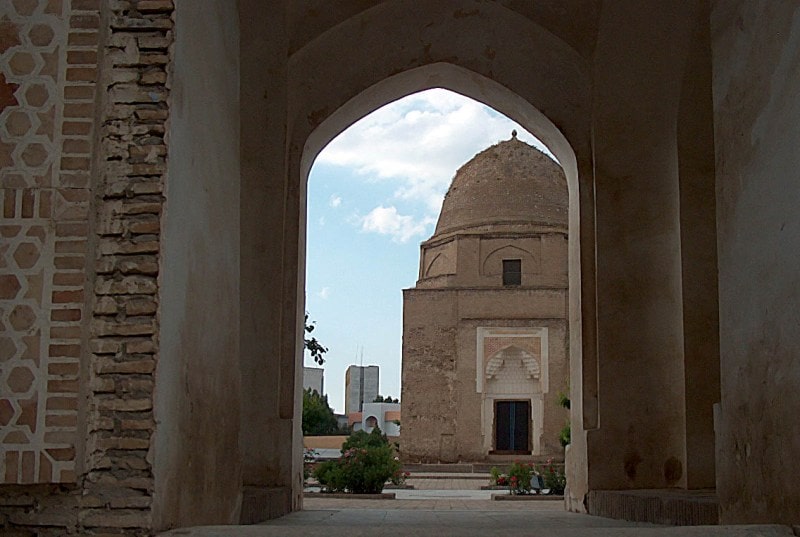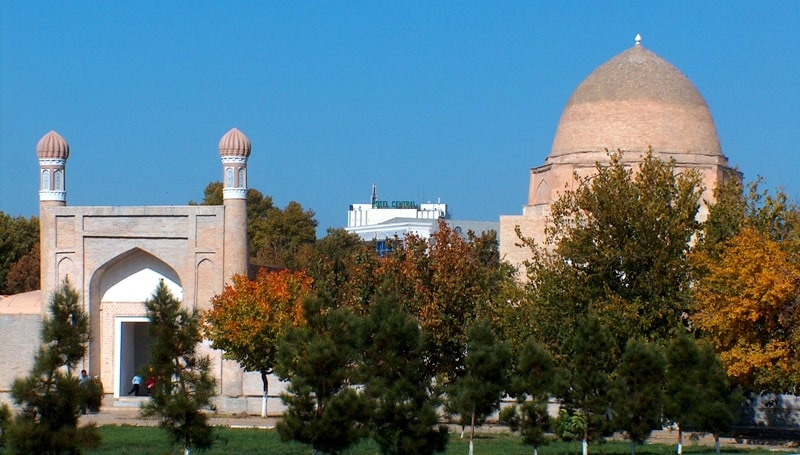 Authority:
Alexey Arapov. Samarkand. Masterpieces of Central Asia. Tashkent, San'at. 2004. 
Photos
Alexander Petrov.